Philip Hammond's Budget will come under further scrutiny today after he offered early tax cuts for millions of workers and extra cash for Whitehall departments ahead of Brexit.
The Chancellor signalled an easing of austerity on Monday with just five months to go before Britain quits the European Union.
Boosted by improved public finance forecasts, the Chancellor promised a "brighter future" after years of constraint imposed following the financial crash.
But the spectre of a no-deal Brexit hung over the 72-minute statement, with the Office for Budget Responsibility (OBR) warning that failure to reach agreement with Brussels would hit the economy hard.
A disorderly Brexit "could have severe short-term implications for the economy, the exchange rate, asset prices and the public finances", warned the Government's independent forecaster.
"The scale would be very hard to predict, given the lack of precedent."
The Chancellor's decision to move the Budget to mid-afternoon on Monday left analysts less time to crunch the numbers and examine the fine detail.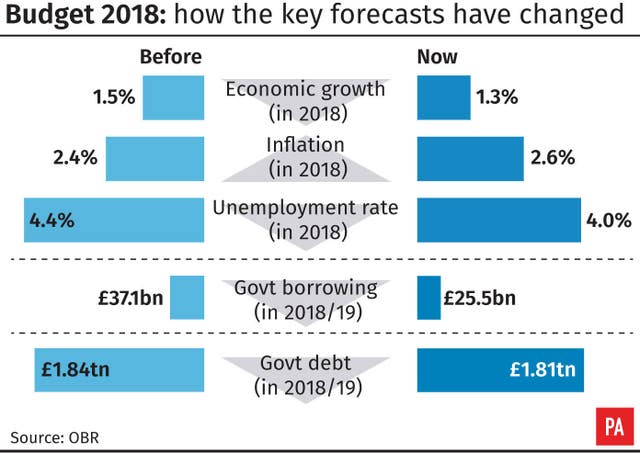 Setting out his income tax cuts, Mr Hammond said the personal allowance will rise to £12,500 and the higher rate threshold will rise to £50,000, both from April 2019.
The changes had been due to come into force in 2020.
The Chancellor set out a five-year plan for departmental spending which will see Whitehall budgets rise by an average of 1.2% a year.
Detailed figures made clear that the lion's share of this extra funding will go to the Department of Health to pay for a £20.5 billion boost to NHS spending, while other departments see their budgets rise in line with inflation.
Downing Street insisted the spending pledges were fully funded, irrespective of the outcome of Brexit talks.
Mr Hammond said his Budget was aimed at helping "the strivers, the grafters and the carers" and would pave the way for a "brighter future".
But Labour leader Jeremy Corbyn labelled Mr Hammond's statement a "broken promise Budget".
As well as giving there was some taking. In a move designed to put the UK at the forefront of international action to adapt tax systems to the digital age, the Chancellor announced a £400 million levy aimed at internet giants such as Google and Facebook.
It is something sure to be of interest to Facebook's UK head of public policy Rebecca Stimson and Google UK interim head of public policy Katie O'Donovan when they give evidence on internet regulation to a House of Lords committee on Tuesday afternoon.