The families of those killed in one of the most shocking attacks of Northern Ireland's Troubles have urged politicians to make sure it never happens again.
Hundreds of people gathered in Greysteel, Co Londonderry to mark the 25th anniversary of the night loyalist gunmen burst into a busy bar and opened fire.
Wreaths and flowers were laid in memory of the victims at a plaque outside the Rising Sun pub, where the atrocity took place.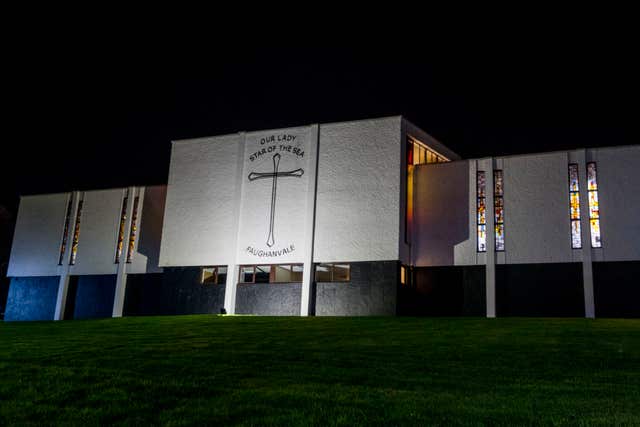 Seven were killed on the night of the attack, while the eighth died several months later from injuries.
The killers shouted "trick or treat" before pulling the trigger.
Karen Thompson, 19, Steven Mullan, 20, Moira Duddy, 59, Joseph McDermott, 60, James Moore, 81, John Moyne, 50, John Burns, 54 and Victor Montgomery, 76 were remembered during a special Mass at the nearby Star of the Sea church.
Monsignor Andrew Dolan paid tribute to the "positive and dignified" response of the Greysteel families over the years to "such an evil deed".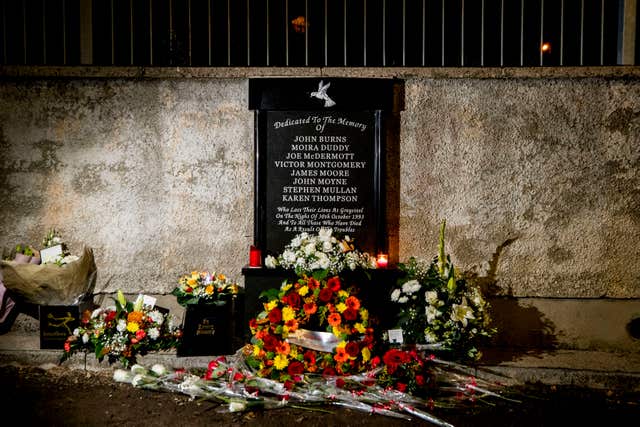 He said they asked him to relay the message to public representatives to do "all you can to ensure this never happens again".
"I hope you are listening," he added to those gathered in the church which included a number of politicians.
SDLP leader Colum Eastwood, his predecessor Mark Durkan, Alliance leader Naomi Long, Sinn Fein MLA Caoimhe Archibald and Ulster Unionist councillors Richard Holmes, Norman Hillis and William McCandless were among those present.
A number of Protestant religious ministers were also there.
Following the service, hundreds of people gathered at the Rising Sun bar.
The families of those killed laid wreaths and bouquets of flowers at the memorial plaque.
The Greysteel shootings were claimed by the Ulster Defence Association (UDA) who said the Ulster Freedom Fighters (UFF) had carried out the attack in retaliation for the IRA's bombing of a fish shop on the Shankill Road in Belfast the week before.
Ten people, including one of the IRA bombers, died in that attack.
In response, the UDA orchestrated a series of so-called "revenge" attacks against Catholic civilians.
The horrifying series culminated in the Greysteel shootings.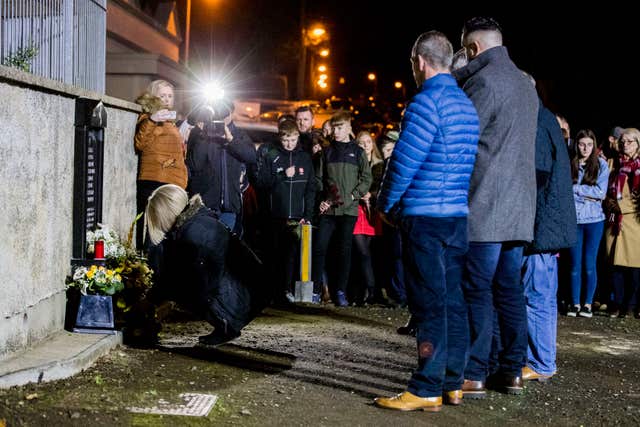 "This is my first time in Greysteel, I wanted to be here on the 25th anniversary to show my support and solidarity with the families because we all suffered and the people that murdered my wife and the people that murdered in Greysteel were two sides of the one coin in terms of bringing terror, hurt and anguish to many families," he said.
In February 1995, four men were convicted of carrying out the Greysteel shootings.
Stephen Irwin, Jeffrey Deeney, Torrens Knight and Brian McNeill received life sentences for their involvement in the attack.
However they were released early in 2000 under the terms of the Good Friday Agreement.