Leicester City will open a book of condolence on Tuesday to allow fans to pay their respects to owner Vichai Srivaddhanaprabha after his death in a helicopter crash.
He was one of five people killed when his helicopter crashed shortly after taking off from the club's King Power Stadium on Saturday evening after a game against West Ham.
The book, which will be shared with the Srivaddhanaprabha family, will be opened at the stadium at 8am.
An online book will also be opened on Tuesday for supporters who are unable to visit the King Power Stadium and wish to pay their respects.
The club said that Tuesday's first team fixture against Southampton in the EFL Cup and the development squad game against Feyenoord in the Premier League International Cup have been postponed.
Mr Srivaddhanaprabha's son Aiyawatt was among those to lay a wreath at the ground on Monday, where hundreds of tributes have been left.
Mr Srivaddhanaprabha's wife Aimon Srivaddhanaprabha, Somyot Poompanmoung, president of the Thai FA, and Mr Poompanmoung's wife, Potjaman Poompanmoung, were among those who also visted the scene.
The Duke of Cambridge and Prime Minister Theresa May said their thoughts were with the victims' families, friends and the supporters.
William, president of the Football Association and a keen football fan, said he was lucky to have known Mr Srivaddhanaprabha for several years.
Players paid tribute on social media to Mr Srivaddhanaprabha, who became chairman of the club in 2011.
He was killed, along with two staff members, the pilot and a passenger, when the aircraft fell from the sky and burst into flames outside the King Power Stadium at about 8.30pm on Saturday.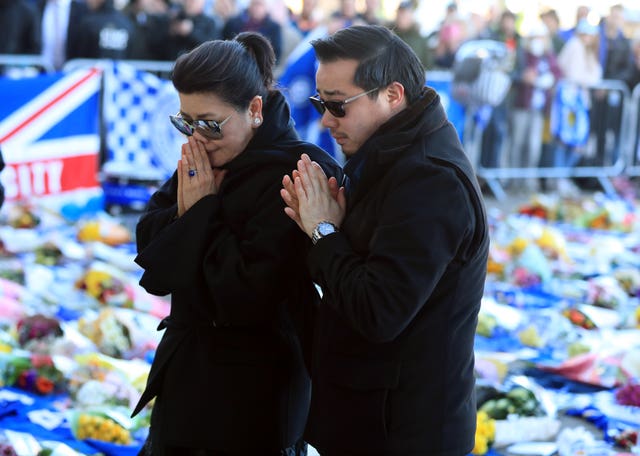 Mr Swaffer has been hailed a hero for steering the spinning aircraft away from crowds of people on the ground.
The Air Accidents Investigation Branch (AAIB) is carrying out an investigation into what caused the Agusta Westland AW169 helicopter to crash a few hours after the Foxes drew 1-1 with West Ham.