Two life-sized Tommies have been unveiled at the US embassy in London to mark the centenary of the end of the First World War.
The 6ft Soldier Silhouettes were revealed by US ambassador to the UK Robert "Woody" Johnson and General Lord Dannatt, former chief of the general staff in the British Army.
The unveiling commemorated British soldiers, known as Tommies, and soldiers from the US, known as Doughboys, who served together in the war.
One Tommy will guard the embassy foyer and the other will be placed in the consular entrance for the Remembrance period.
They have been purchased from the There But Not There campaign, commemorating 100 years since the end of the conflict.
The campaign was launched in the US in February and has raised more than £4 million for a group of US and UK military charities.
More than 76,000 10in and 6ft Soldier Silhouettes have been sold so far and have appeared at locations across the US, including the Golden Gate Bridge and Times Square.
Mr Johnson said: "A hundred years ago, many brave young Americans volunteered to come and fight side by side with their British comrades in the First World War.
"Many never made it back home. They may be gone but they are never forgotten.
"These Soldier Silhouettes are a moving tribute to the sacrifices those soldiers made to defend us.
"We will be displaying them in pride of place at the US embassy in London."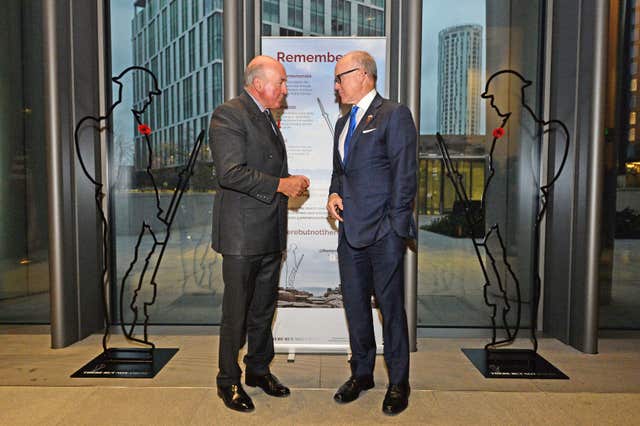 "The camaraderie that was forged between Tommies and Doughboys 100 years ago paved the way for the transatlantic partnership we have enjoyed since.
"We are honoured to represent the sacrifice made by the American troops by having our silhouettes stand guard beneath the Great Seal of the United States.
"As we approach Veterans Day, we hope that the American public will purchase their own silhouette to commemorate their forefathers and raise vital money for those veterans in need today."