The Duke of Sussex was handed a carved weapon during a visit to Rotorua – and warned he should not take it to Twickenham when England play New Zealand.
Harry and Meghan entered into the Tamatekapua Meeting House both wearing a Korowai, a Maori cloak which is intended to be a protector.
The duke was given a tewhatewha, a Maori weapon with a point at one end and an axe at the other.
Trevor Maxwell, of the local district council, said: "I am sure you are going to Twickenham when the All Blacks play England on November 11 – make sure you don't take that."
The ceremony was conducted in Maori – as Harry and Meghan were being treated like "one of their own" – with Monty Morrison, also from the council, only breaking into English once, when he looked at the duchess and said "little bump" to laughter.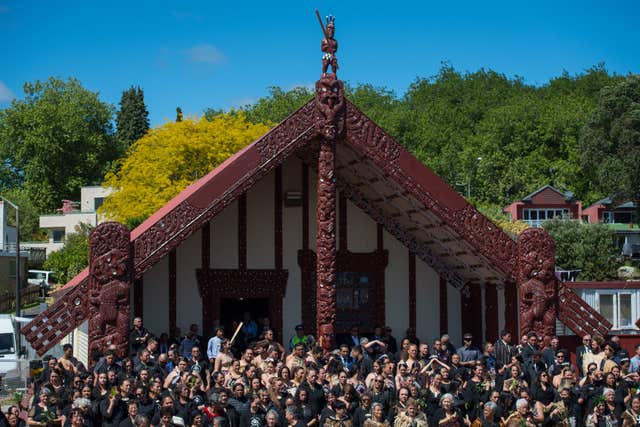 Mr Maxwell joked in Maori that the duchess was just like Pihanga – a mountain in the region famed for its beauty.
The mood of the ceremony was light and relaxed, and Mr Maxwell stumbled slightly when introducing the duke, accidentally referring to him as Prince Andrew before adding: "It was in 2007 when we had Prince Andrew here!"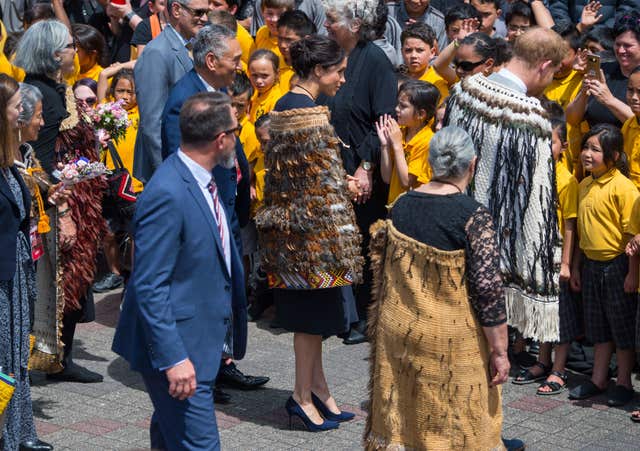 He said: "Thank you for the beautiful cloak you have so kindly gifted to myself and the duchess.
"We appreciate the skill of the weavers who made it, and the aroha (compassion) that has gone into its creation. This cloak is a taonga (possession) that will be cherished in our family.
"One of the joys of our visit to New Zealand has been the opportunity to meet so many young New Zealanders who are devoting their talents and energy to making a difference.
"There are creative, gifted and caring Te Arawa Rangatahi (young people) here, who are using their talents to preserve and promote the Maori language, to support mental wellbeing, and to
achieve in areas that will benefit their communities, and their country."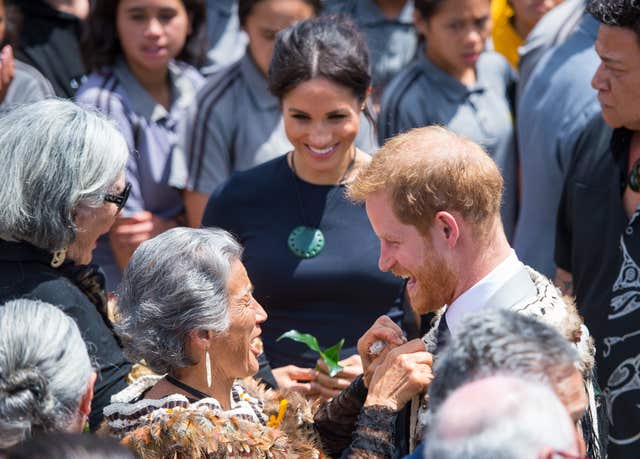 Artist Norma Sturley said: "The taniko (weaving technique) represents the coming together of two people and cultures with each side representing their whakapapa (family and genealogy).
"The duchess's taniko pattern features three quills from the coat of arms representing the powers of words and communication, and the Californian sunshine is shown in the use of rays of gold.
"The blue speaks of the separation of Aotearoa (New Zealand) and England with the Pacific Ocean, as well as the duchess's links to the Pacific Ocean.
"The red symbolises royalty. The taniko weaving design also showcases manaakitanga (care) as (elder) Ngati Whakaue want to nurture the royal couple as a thank you for visiting Papaiouru."