A pudding cooked by geothermal steam was on the menu as Harry and Meghan sampled traditional fare on their last day in New Zealand.
Rotorua is famed for its geothermal activity – and slightly sulphuric smell – and the energy can be harnessed in the kitchen.
During their visit to meet the Te Arawa people, Harry and Meghan were catered for by Masterchef New Zealand 2014 winners, sisters Kasey and Karena Bird.
The couple were shown the kitchens by Tekariki Mitchell, 50, and his mother, Rene Mitchell, 70.
The duke and duchess smiled and appeared impressed as Mr Mitchell showed them the rising steam and a traditional golden steamed pudding that was cooking inside.
His mother then gave the couple a demonstration of how to make the local dessert, using a recipe learnt from years in the kitchen alongside her mother and aunties.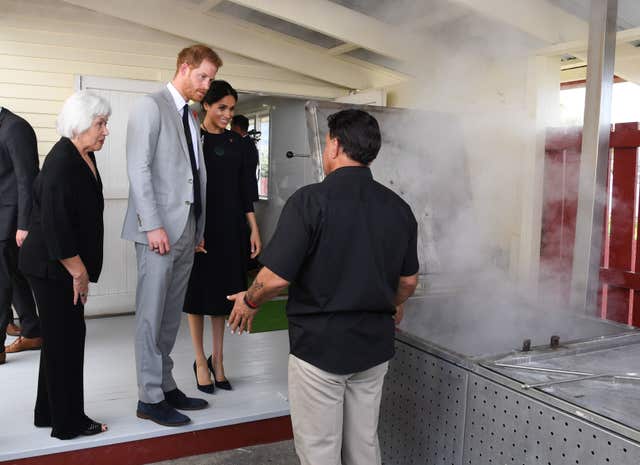 "They said our way of cooking food with the Hangi (geothermal oven) was so wonderful.
"I told them how I learnt through my mum, and that the recipe itself is very simply but over the years people have added their own variations, such as a handful of raisins."
Mr Mitchell then fetched a completed pudding for the couple to compare next to the raw ingredients and mixture.
"They couldn't believe how different it looked," he said.
The Sussexes were served the dessert alongside rhubarb and velvet custard for lunch, after a seafood platter, pork and chicken with gravy, stuffing and seasonable vegetables.
Kasey, 28, said: "They had just requested traditional food. They were really clear they didn't want a separate menu they just wanted to eat what everyone else was eating."
Karena, 29, said: "We plated up their food and then went back in there – they had eaten nearly all of it so we were like 'oh my gosh!'"