The Scottish Fishermen's Federation (SFF) has called for a "joined-up approach" from the Westminster and Holyrood governments as the industry prepares to leave the Common Fisheries Policy (CFP).
Chief executive Bertie Armstrong said the potential gains are too great for "political games", claiming the UK could become a larger fishing nation than Iceland.
The controversial CFP is a set of rules for managing European fishing fleets and conserving stocks, which has been criticised for being unfair to the industry in Scotland.
Mr Armstrong said: "We are unequivocally looking for practical support from all the governments in charge of the fishing fortunes of this northern land.
"The prize is far too large – I speak of the UK overtaking Iceland by volume and value in the globalised world of seafood – for any half-hearted approaches such as making the best of an inevitability or allowing challenges to become defeatism.
"No, instead we want commitment to executing the sea of opportunity for a new independent coastal state with a place on the world stage."
The SFF has been lobbying to ensure the UK is allowed to choose which vessels can fish within its exclusive economic zone, for what and when.
This would replace the current system under the CFP, which allocates two-thirds of fish catches in UK waters to boats from other EU countries.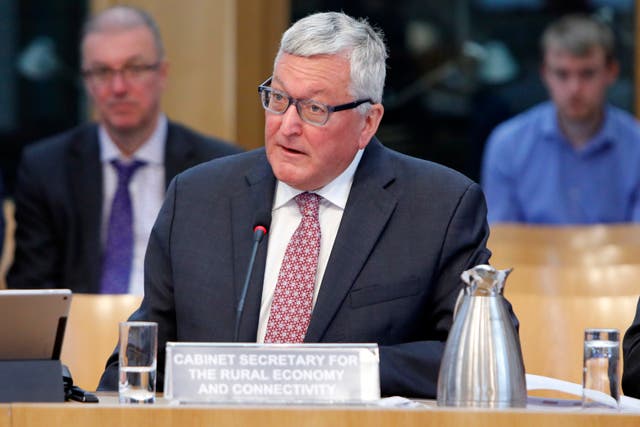 "That includes, for example, successfully persuading the UK Government to refrain from seeking new powers over quota for the secretary of state that would have clearly undermined the powers of the Scottish Parliament.
"This demonstrates that when the UK Government works with, rather than against the devolved administrations, positive results can be delivered.
"I hope that such constructive engagement can be replicated in relation to other UK Government legislation."
David Duguid, Scottish Conservative MP for Banff and Buchan, said: "It would be hugely frustrating for fishermen in my constituency if the two governments were at loggerheads on this issue.
"Even if they do not agree with Brexit, SNP ministers surely can accept there is a fantastic opportunity here to grow our fishing industry."
A Defra spokeswoman said: "The Fisheries Bill is a major milestone in delivering our promise to take back control of our waters and we worked closely with the Scottish Government on the development of this bill to make sure it works for the whole of the UK including Scotland.
"The bill creates new powers for Scotland and we've been clear fisheries remains devolved – but the UK Government will work in close partnership with all devolved administrations where a common approach is needed."