A 17-year-old boy has died after being stabbed outside a Tube station, becoming the second teenager to be fatally knifed in London within 24 hours.
It comes the day after a 15-year-old, named by police as Jay Hughes, was stabbed to death in Bellingham, south east London.
The killing marks the 115th homicide in the capital so far this year, of which 19 victims have been teenagers.
Officers were called to Clapham South Tube Station in south west London at 4.35pm on Friday, where they found the teenager suffering from a stab wound.
He was taken to a south London hospital, where he died less than an hour later, the Metropolitan Police said.
Charity director Robin Pritchard said he moved through a crowd and saw the victim lying in a pool of blood while someone provided CPR.
The 47-year-old told the Press Association: "I saw the guy on the floor, a pool of blood like he'd been stabbed in the stomach, his clothes were soaked.
"It was strangely calm and quiet. I think everyone was in shock. Lots of kids there from the local college.
"All I really registered were grey tracksuit bottoms which were soaked with a pool of blood coming from his waist like he'd been stabbed in the stomach."
Another witness, who did not want to be named, said he saw "a bunch of guys" shouting and appearing agitated, with one carrying a large knife.
He added that the area is usually noisy after students leave nearby Saint Francis Xavier College.
He said: "I had no idea it was different to any other time the students get a bit noisy, until I saw the knife as I was literally passing them."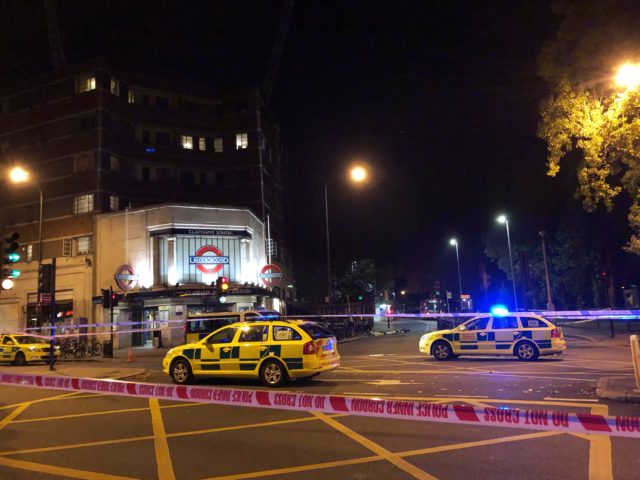 No arrests have been made so far and inquiries continue.
Surrounding roads and the Tube station have been closed with police remaining on scene.
A Scotland Yard spokesman said: "Police were called at approximately 16:35hrs on Friday, 2 November to reports of a stabbing outside Clapham South Tube Station.
"A 17-year-old male was found suffering from a stab wound. He was taken to a south London hospital where he died a short while later.
"Police are in the process of informing his next of kin.
"Formal identification has not yet taken place. A post-mortem examination will be held in due course."