A criminal investigation has been launched into allegations of anti-Semitic hate crimes within the Labour Party.
Met Police Commissioner Cressida Dick said it "appears there may have been crime committed" after being passed a dossier.
Labour has not been contacted by the police but is ready to co-operate with the investigation.
Deputy leader Tom Watson said the Scotland Yard announcement was "thoroughly depressing" but "sadly I'm not surprised".
It passed the documents to Ms Dick after she gave an interview to the station on September 4.
The Met chief said the Labour Party itself was not under investigation.
She told BBC Radio 4's Today: "We have been assessing some material that was passed to me, in a radio studio of all things, about two months ago and we are now investigating some of that material because it appears there may have been crime committed.
"We are liaising immediately with the Crown Prosecution Service and I hope we will be able to clear that up very quickly."
Before LBC passed the dossier to Scotland Yard, it showed the contents to former senior police officer Mak Chishty, who said that 17 instances should have been reported to the police for investigation, and another four were potential race hate crimes.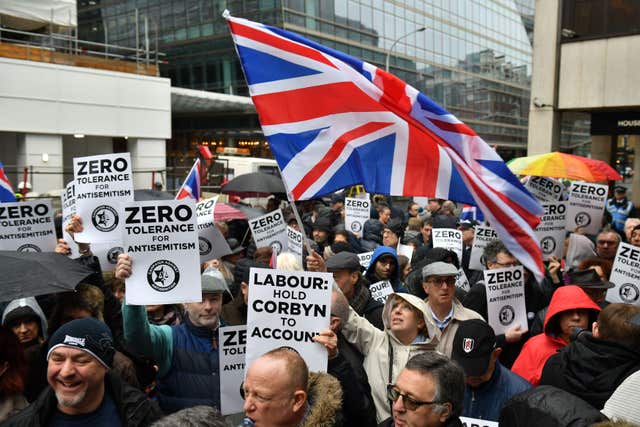 Jeremy Corbyn has faced intense criticism over his response to claims about prejudice against Jews in the party.
But some of his supporters have claimed the issue has been used as a way to attack the Labour leader.
Asked about the investigation, Mr Watson told Today: "Thoroughly depressing although sadly I'm not surprised.
"If people have committed hate crimes then they need to be dealt with by the full force of the law.
"There's no role for them in the Labour Party.
"If this does one thing it will be able to silence a very small number of people who still believe that anti-Semitism doesn't exist in my party or in other parties."
In a statement, the Metropolitan Police said: "A criminal investigation has commenced into some of the allegations within the documentation.
"Early investigative advice is being sought from the Crown Prosecution Service."
A Labour Party spokesman said: "The Labour Party has a robust system for investigating complaints of alleged breaches of Labour Party rules by its members.
"Where someone feels they have been a victim of crime, they should report it to the police in the usual way."