Brexit is undermining 20 years of peace in Northern Ireland and is fraying relationships between Britain and Ireland, Taoiseach Leo Varadkar has said.
The Irish prime minister gave a stark warning about the state of cross-border relations on Saturday, with just months to go before the UK is due to quit the European Union.
His comments came after another Dublin politician said a return to a hard border threatened the peace process, in a row following reports that a backstop plan was close to being agreed with Brussels.
Senator Neale Richmond, who chairs the Seanad's Brexit Committee, told Brexiteer Tory MP Owen Paterson on BBC Radio 4's Today programme that plans for solving the border dispute using "existing practical systems" was "completely unfeasible".
Speaking on RTE Radio One's Marian Finucane programme on Saturday morning, the Taoiseach said: "Brexit has undermined the Good Friday Agreement and it is fraying relationships between Britain and Ireland.
"Anything that pulls the two communities apart in Northern Ireland undermines the Good Friday Agreement and anything that pulls Britain and Ireland apart undermines that relationship."
His comments came two days after Nobel peace prize winner and Conservative Lord Trimble accused Mr Varadkar's government of "riding roughshod" over the 1998 agreement.
Lord Trimble, who helped draw up the landmark agreement which ended decades of deadly fighting in the province, claimed that the Brexit process could result in Northern Ireland ending up as part of an "effective EU protectorate".
Brexit talks have reached an impasse over the EU's "backstop" plan, which would see Northern Ireland effectively remaining in the customs union and single market unless alternative arrangements were found to prevent a hard border.
But reports from Dublin had suggested that a deal involving an all-UK customs union in the Withdrawal Agreement, plus a separate backstop for Northern Ireland, is close to being agreed.
On Friday, Ireland's deputy premier, Simon Coveney, said he believed a Brexit deal could be reached by the end of November, with his Westminster counterpart, Cabinet Office Minister David Lidington, saying negotiators were "very close", after the pair held talks in Dublin.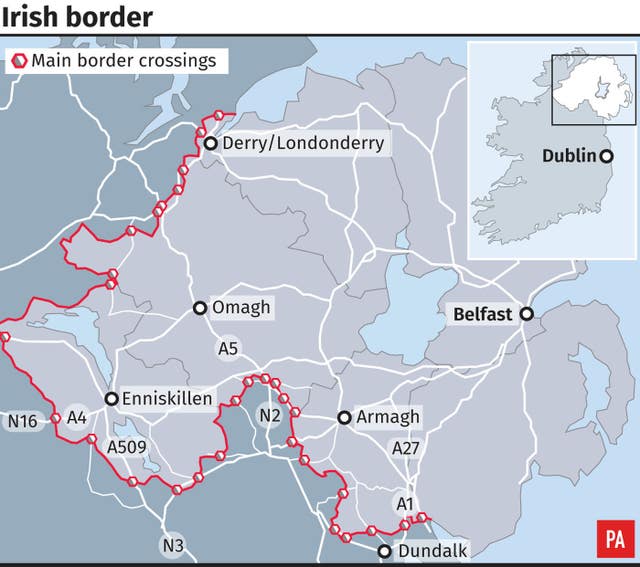 Mr Paterson, a former Northern Secretary, told Today: "They are convinced that the current proposals, the Chequers proposals, the facilitated customs regime, is completely unworkable in practical terms for five to 10 years.
"They have looked at this, they are completely abreast of World Trade Organisation (WTO) rules, World Customs Organisation rules, and they have assured us that we can continue using many of these administrative systems if there is political goodwill.
"We are addressing a very small amount of trade which is very, very regular and already very, very clearly administered and regulated.
"In some ways it suits that it is agriculture and food mainly because it is such a highly regulated part of our economy."
But Senator Richmond said that what was described as a "very small" amount of trade was actually "14,000 commercial vehicles every day and 30,000 people crossing the Irish border" to and from what would become a "third party" country after Brexit.
Some 85% of the trade was carried out by small businesses who did not need added bureaucracy, he added.
He told Today: "The advice he (Mr Paterson) has got from one Dutch academic doesn't stack up to the expert advice of HM Revenue and Customs, the European Commission, the Irish Government, the WTO itself and thousands more legal minds.
"When we talk about political goodwill I think it's very important … why the Irish Government and why the European Commission is so firm on an Irish-specific backstop is the preservation of peace.
"It's the 20-year-old fragile Good Friday Agreement peace, something that the Irish Government and indeed the British Government is a co-guarantor of, and we must work to ensure that there is no hard border, customs or otherwise, on the island of Ireland, as that is a threat to that Good Friday Agreement. Let's focus on that first and foremost."