Irish cervical cancer campaigner Vicky Phelan has said medical professionals who fail to disclose information to patients should face sanctions.
The mother of two, who is one of more than 220 women affected by the country's cervical cancer screening scandal, said she would keep fighting for accountability and more answers.
"People cannot be sacked and I think that is something I certainly will be striving for," she said.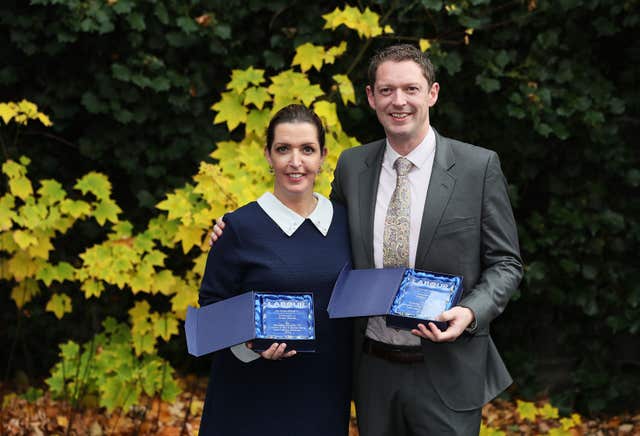 Ms Phelan made the comments at the country's Labour party national conference in Dublin on Saturday, as she and Stephen Teap, whose wife Irene died last year, were honoured for their bravery in speaking out on behalf of the women and families affected by the controversy.
They received a standing ovation as they were presented with the Jo Cox Award, named after the UK MP who was killed.
It emerged earlier this year that 221 women and families were not told about misreported smear tests.
Ms Phelan, 43, from Co Limerick, was instrumental in bringing the scandal to light when she took legal proceedings after a 2011 smear test, which returned no abnormalities, was found three years later to be incorrect.
She was diagnosed with cervical cancer in 2014 but she was only told of the false negative result last year.
She settled the High Court action for 2.5 million euro (£2.2 million).
Ms Phelan said sanctions were necessary, not because she wanted to see people being punished, but because otherwise doctors and consultants do not disclose their mistakes.
"Unfortunately you need to put sanctions in place in order for people to toe the line and actually do what they're supposed to do," she said.
"We were in awe of them," he said.
"We thought that they were the greatest people that there was.
"Then for them to turn around and disrespect my wife in the way that they did is one of the things that makes me most angry."
Mr Teap's late wife had cervical cancer, which was missed by two smear tests.
If her illness had been detected earlier, her life may have been saved.
Both Ms Phelan and Mr Teap said they would keep pushing and fighting until all 50 recommendations made in a recent scoping inquiry by Dr Gabriel Scally, were implemented, in particular the introduction of mandatory open disclosure of patients' information.
UK health expert Dr Scally was commissioned by the Irish Government to lead an inquiry into the misinterpretation of the cancer tests.
He found there were serious gaps in the governance structures of the Cervical Check screening services.
The Irish Labour party held detailed policy discussions on the future of women's health at the conference.
A debate on housing and health and Labour's approach to any future government formation talks are also set to be discussed during the three-day event.
The party wants to see the all-party Slaintecare plan implemented swiftly.
It aims to provide care based on need and not on a person's ability to pay.
The party is putting out its stall ahead of the next general election, which it believes is likely to be held in the first half of next year.