Australia and Australians answered the call of the Empire emphatically when the fighting began in the First World War – including Aboriginal men who were denied citizenship of the land they called home.
The contribution of Aboriginal and Torres Strait Islander soldiers is unclear, owing to the fact that race was often not recorded on enlistment forms.
But independent researcher and historian Philippa Scarlett has sought to change this, spending decades uncovering stories of those who became so-called forgotten diggers.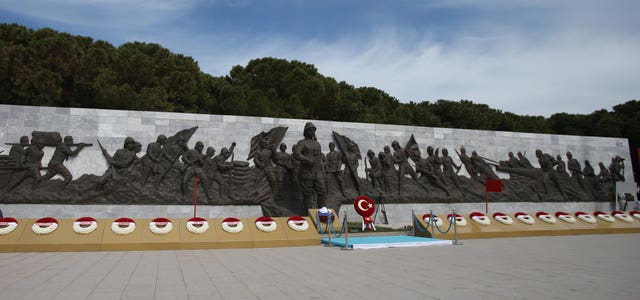 "When they came back, Aboriginal soldiers were quite often not recognised and missed off war memorials."
More than 1,000 Aboriginal men attempted to enlist, with 820 serving in the AIF between 1914 and 1918 including at Gallipoli, Light Horse in Egypt and the Australian Tunnelling Company on the Western Front, Ms Scarlett said.
The Defence Act at the time prevented anyone who was not of mostly European descent from serving, but many Aboriginal men found their way in.
Some claimed they were from the south of Europe, others travelled to a second centre after being refused by a recruiting officer elsewhere.
Ms Scarlett, who works with the mission records of the AIF, said there was a "paradox" with Aboriginal men volunteering when the country refused to grant them citizenship, and would not until 1967.
She said: "Why would they fight for the people who were the imperialists? It is very hard to understand, but some people say they just joined up following very aggressive recruitment campaigns.
"It's hard to know because we don't have any written records, but I think there were a few who were fighting for their country. Australia was their country, although it had been taken from them.
"They went into the war, just like other soldiers, and some came home injured, some didn't come home, they were traumatised, injured.
"These men went, their country did not recognise them, and when they came home there were so many rights they didn't have. They were treated like second-class citizens."
A number of Aboriginal soldiers had hopes of greater equality after the war.
But Thomas Blackman, writing to anthropologist Caroline Tennant-Kelly in 1935, said: "I always thought that fighting for our king and country would make me naturalised British subject and a man with freedom in the country but I have hardly had freedom since I returned from the war; I have no justice at all."
Aboriginal soldiers were also decorated for their war efforts, four receiving Distinguished Conduct Medals and one, Ewan Rose, being awarded the Belgian Croix de Guerre.
His recommendation, from Captain Robert Thomas Brock, spoke of Corporal Rose's "courage and cheerfulness" as he extracted colleagues at Broodseinde Ridge.
Ms Scarlett said it was only in recent years that the efforts of native people had been brought into public consciousness, adding: "I think that's important.
"At last, during this 14-18 period, that Aboriginal people are being put into the mainstream history."