People will be encouraged to take more responsibility for managing their own health, as part of the Government's latest NHS strategy focusing on prevention.
Stopping people slipping into poor health will become a fundamental focus of the long-term plan for the health service, the minister in charge is expected to say.
Health and Social Care Secretary Matt Hancock is due to address the Annual Meeting of the International Association of National Public Health Institutes on Monday.
He will announce a green paper, entitled Prevention is better than cure, outlining the vision for a "new 21st century focus on prevention", the department of health said.
Prevention as a strategy works, saving both lives and money, Mr Hancock is excepted to say in his keynote speech.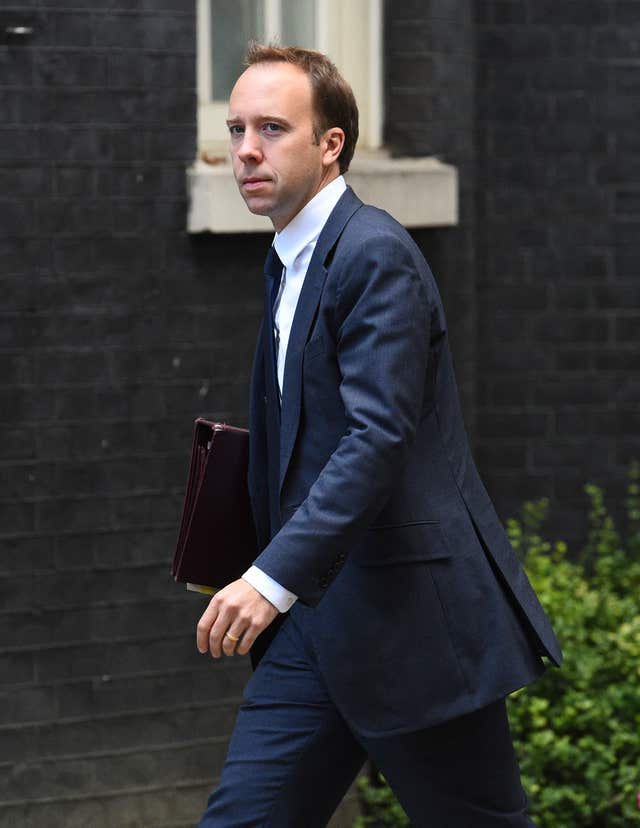 He will say: "Prevention is also about ensuring people take greater responsibility for managing their own health. It's about people choosing to look after themselves better, staying active and stopping smoking.
"Making better choices by limiting alcohol, sugar, salt and fat.
"But focusing on the responsibilities of patients isn't about penalising people. It's about helping them make better choices, giving them the all the support we can, because we know taking the tough decisions is never easy."
Mr Hancock will say the "numbers don't stack up" when it comes to spending on prevention as opposed to treatment.
He will say: "In the UK, we are spending £97 billion of public money on treating disease and only £8 billion preventing it across the UK.
"You don't have to be an economist to see those numbers don't stack up."
Focusing on prevention will help to tackle health inequality, he will add.
"It can't be right that today, in England, a boy born in the poorest parts of our country will die nine years earlier, and live 19 more years in poor health, than a boy born in the richest areas.
"That's why prevention matters. That's why we need a new 21st century focus on prevention."
Public Health England will look at "harnessing digital technology" as a form of "predictive prevention", potentially leading to targeted health advice for people based on their their location and lifestyle.
Duncan Selbie, chief executive Public Health England, said: "We need to move from a system that detects and treats illnesses to one that also predicts and prevents poor health through promoting health in all policies and puts people back in charge of their own health."
The Government's ambitions to improve public health include reducing loneliness, halving childhood obesity by 2030 and diagnosing three quarters of cancers at stages 1 and 2 by 2028.
At the weekend Theresa May said the Conservatives "are now the natural party of the NHS" and said the Government was putting the public health system, created 70 years ago, on a path to "prosper for another 70 years and more".
Her words came after Chancellor Philip Hammond found an extra £20.5 billion to fund the NHS over the next five years.
Helen Donovan, from the Royal College of Nursing, welcomed Mr Hancock's plans but urged serious investment at a local level to back them up.
She said: "Matt Hancock must realise his plans will start at a disadvantage as local authorities struggle with planned cuts to public health budgets of almost 4% per year until 2021.
"While it's clear he sees that prevention isn't an optional extra, we need to see properly funded, accountable services delivered by a fully staffed nursing workforce backed by adequate resources."
Labour MP Jonathan Ashworth said while the plans are "laudable", they follow "years of cuts and failed privatisation".
He said: "Unless ministers reverse these cuts and start fully funding public health services, these announcements will be dismissed as a litany of hollow promises."