A Grenfell Tower leaseholder has told of the horrific moment he believed his wife was dead as she was carried out of the burning high-rise by four firefighters.
Nicholas Burton and his wife, Maria del Pilar Burton, 74, were helped from their 19th floor flat by fire crews at about 2.25am after making two 999 calls.
Mrs Burton, known as Pily, had dementia and was so frail that she was unable to use stairs and struggled to walk to her bedroom, he said.
Mr Burton estimates he was woken between 1.20 and 1.30am by loud banging on his door from a neighbour, he told the public inquiry into the fire.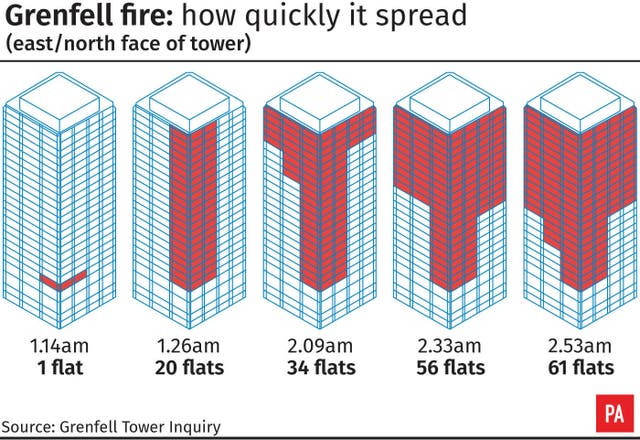 He said he slammed the door shut and started placing wet towels at its base.
Within an hour, firefighters had arrived to help them out of the flat, with Mr Burton forced to leave behind his beloved beagle, Lewis Hamilton II, who he had covered with a wet towel.
More than half way down, Mr Burton began feeling dizzy, his legs became weak and he thought he would not make it.
He reached the bottom of the block in five to seven minutes, Mr Burton said, adding that he had seen evidence that suggested his flat was on fire by 2.34am.
But he refused to leave the building until he knew his wife was safe.
He said: "It just seemed forever and ever and I was just panicking, I didn't know whether my wife was out first or if she was behind me… but I knew that I was standing my ground and I wasn't going to leave that tower until I knew where my wife was."
He then saw four firefighters carrying his partially-clothed wife, each holding one of her arms or legs.
He continued: "I just thought she was dead, I thought maybe she's got burnt and something's happened in that stairwell… so I was just standing in total disarray and shock.
"What's happened is she's dead – they are just bringing her out."
The couple were quickly reunited, but Pily was later taken to hospital and Mr Burton spent 12 hours trying to locate her.
She died in hospital in the January following the fire after suffering a stroke, and is widely considered to be its 72nd victim.
Mr Burton, 51, said it was obvious to him from early on he would not have been able to make his way out with his wife, and was "confident" that firefighters would come for them.
He awaited rescue in his flat, despite increasingly anxious calls from a friend outside who told him to leave.
His front door, which was not replaced in 2011 like 106 others in the block, was effective at stopping smoke entering the flat and by the time they were rescued there was "certainly no problem breathing".
Asked why he did not heed his friend's advice, he said: "Because I thought that someone would come for us. I did not want to put my wife at risk.
"If I was there by myself, I probably would have just left but my wife was very frail, very delicate, and I did not want to put her life at risk by going into the smoke."
He added: "I just thought we would be safe in our flat as it's solid concrete."
At the end of his oral evidence, Mr Burton told the inquiry chairman that "failings" and "loopholes" that led to Grenfell and previous fires "has to stop here".
He said: "Grenfell has to stand for something and it's to stop here."