The grim tally of violent deaths in London so far this year has reached 119 after the death of a 16-year-old boy in front of his devastated parents.
A witness described the teenager's mother screaming at the scene of the suspected stabbing in Tulse Hill, south London, on Monday.
The boy, named locally as John, was "bubbly" and "had manners", according to one of his friends.
Police were called to reports of a shooting in Greenleaf Close at 10.53pm. Paramedics tried to save the teenager, but he was pronounced dead at 11.41pm.
Officers believe the boy had suffered stab wounds and said there is no evidence that a gun was fired.
"Did you see or hear anything? If so, no matter how insignificant you think it may be, please call – your information could prove to be crucial."
So far in London this year there have been 119 violent deaths, including two cases that are being treated as self-defence.
A third of the 117 remaining cases (42) involved victims aged 16 to 24, while 20 were teenagers.
The total is nearing that seen for the whole of last year, after five fatal suspected stabbings in the space of a week.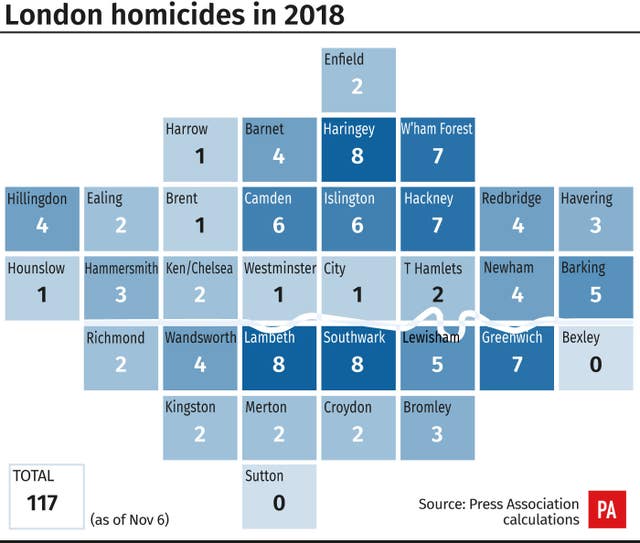 One witness to the aftermath of the Tulse Hill murder said the boy looked "like an angel".
Paulina Wedderburn saw the victim's emotional mother and father were at the scene and said it took some 15 minutes for emergency crews to arrive.
"The boy was laying down. He looked like an angel, like he was sleeping," Mrs Wedderburn said on Tuesday morning.
"I just feel sorry for the mum. The mum's screams, I can't get out of my head.
"It's awful. Imagine being a mother seeing that."
The neighbour saw a black car driving off.
"A big black Audi, I think," she said.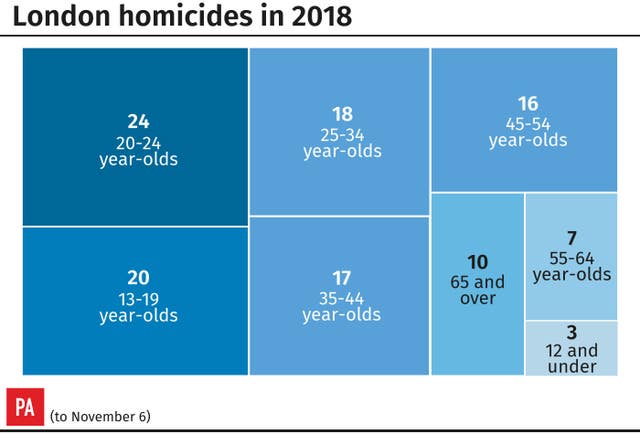 "What's going on? What is it? Why do they have to be killing each other?" she said.
"When I was growing up in the 70s, if there was a fist fight, that was it. There was no knives.
"All you're doing is upsetting families. If you saw the mum and dad, it was heartbreaking."
She added that the victim's mother had been to the flats before to pick up her son as she did not like him hanging around there.
One of the boy's friends, who had dinner with him on the evening he was killed, said: "He was bubbly. He was the friendly type. He was respectful. He had manners."
Two other girls said John was stabbed "five times" in his heart and in his stomach as he was leaving a friend's house.
The friends said John, an aspiring rapper, was associated with the LTH (Lower Tulse Hill) gang and went to school at Park Campus in West Norwood.
They did not know who attacked him, but did not believe it was a targeted stabbing.
Another friend, who lives at the estate and did not want to be named, also thought he heard a gunshot before he looked out of the window and saw the commotion.
"Growing up around here, you become used to it. You can tell the difference between a gunshot and a firework," he said.
"I heard a person say, 'We got him, we got him'."
He said it took about 20 minutes for emergency crews to arrive.
"I lost a friend," he said. "If they had come sooner my friend would still be alive."
On Monday, the Mayor of London Sadiq Khan warned it could take a generation to turn the tide of violent crime in the capital.
The victims in the recent spate of deaths, which are not being linked by police, include "adored" father Rocky Djelal, 38, who was fatally stabbed in broad daylight in Southwark Park in Rotherhithe, south-east London on Wednesday.
The following day, 15-year-old Jay Hughes was killed in Bellingham, also in south-east London, by a stab wound to the heart.
Malcolm Mide-Madariola, 17, was fatally knifed on Friday outside Clapham South Tube station in south London, near where he studied.
On Sunday, Ayodeji Habeeb Azeez, 22, from Dagenham was fatally stabbed in Samos Road, Anerley, also in south London.
On Tuesday evening, a teenage male was stabbed in Camden, North London. Police officers were called to Billy Fury Way, NW3 just after 8pm on Tuesday evening.
He has been taken to hospital and his condition is not yet known.