The family of an Ulster Defence Regiment soldier killed in a bomb attack in Northern Ireland over 40 years ago has welcomed the arrest of John Downey.
Mr Downey was detained in Donegal in the Republic of Ireland by gardai on Monday evening under a European Arrest Warrant as part of a joint operation with the Police Service of Northern Ireland (PSNI).
The warrant related to three offences including a bomb in Co Fermanagh in 1972 which killed two Ulster Defence Regiment (UDR) members.
Lance Corporal Alfred Johnston, 32, a father-of-four, and Private James Eames, 33, a father-of-three, died when an IRA bomb exploded in a car they were checking on the Irvinestown Road, Cherrymount, Enniskillen, on August 25 1972.
Mr Downey, 66, was remanded in custody after he appeared before the High Court in Dublin on Tuesday as Northern Ireland prosecutors seek to extradite him to face murder charges.
Defence barrister Garnet Orange confirmed in court that Downey is contesting the application and is "anxious to get bail".
He added that his client suffers from a medical condition and has a heart monitor fitted.
Downey will appear at the Criminal Courts of Justice on Thursday for a bail application hearing.
The extradition hearing will take place on Friday November 23.
A spokesman for Mr Johnston's family said: "John Downey has for a long period of time been suspected to have been involved in the murder of our father and his colleague on August 25 1972 in Enniskillen, County Fermanagh.
"Whilst we welcome any development into the investigation of our father's murder, we would appreciate that the media respect our privacy at this difficult time."
In 2013, Downey was charged with murdering four Royal Household Cavalrymen in a bomb in London's Hyde Park in 1982.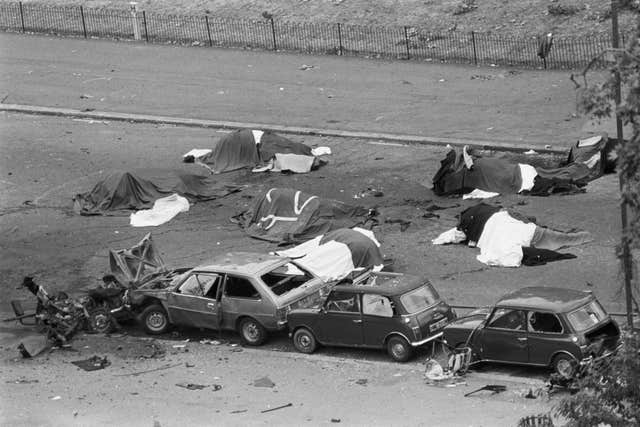 The letter was issued under the terms of the controversial On The Runs (OTRs) scheme.
Mr Downey has always denied any involvement in the Hyde Park attack.
Sinn Fein MLA Gerry Kelly criticised Downey's arrest as an act of "gross bad faith".
At a cross-border policing conference in Newcastle, Co Down, Police Service of Northern Ireland Deputy Chief Constable Stephen Martin was asked to respond to Sinn Fein's claim that the arrest of Mr Downey represented a breach of the undertakings he had been given by the UK government on his status as an On The Run.
"This is a murder investigation, a European arrest warrant has a high degree of judicial oversight both in Northern Ireland and in the Republic of Ireland.
"But that question is about politics and that question is best answered by politicians."