A Co Donegal man who is wanted by prosecutors in Northern Ireland over the 1972 murders of two soldiers has been granted bail in a Dublin court ahead of a formal extradition hearing.
John Downey, 66, whose prosecution for the IRA's Hyde Park bombing collapsed in controversy four years ago, has been released from Cloverhill prison in the city after bail of 35,000 euro was approved by judge Ms Justice Aileen Donnelly.
Downey was detained in Co Donegal on Monday on a European Arrest Warrant.
The Northern Ireland Public Prosecution Service initiated extradition proceedings after determining it had sufficient evidence to charge him with the murders of Lance Corporal Alfred Johnston, 32, and Private James Eames, 33, in a car bomb attack in Enniskillen.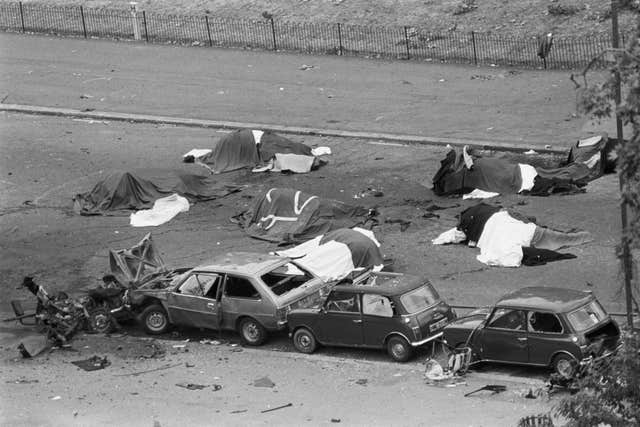 In 2013, Downey was charged with murdering four Royal Household Cavalrymen in an IRA bomb in London's Hyde Park in 1982.
He stood trial at the Old Bailey, but the case dramatically collapsed after it was revealed he had received a written assurance from former prime minister Tony Blair's government that he was not actively wanted by the authorities.
Explaining the rationale for granting bail on Thursday morning, the judge highlighted that Downey had been on bail during court proceedings in England and had abided by all conditions.
Ms Justice Donnelly also noted Downey appeared to have some health issues, and had lived in the Irish Republic for more than 30 years.
"On a previous occasion, he faced charges in a court in England and was released on bail during these matters and abided by the conditions," she said.
Downey is on a State pension, however Ms Justice Donnelly said she did not know whether it was contributory or not.
"I have no idea what he has been working at," the judge added.
"I am told that he is living at a substantial property, and for some reason he transferred the house out of his name to his wife last year."
The judge added that it was a concern to the court that his wife and two adult children were able to raise a cash sum of 5,000 euro (£4,400).
She added that she is left in a situation where "I have to take a view" that Downey has access through his acquaintances to a "greater level of surety".
The judge granted bail on Thursday morning conditional on Downey providing evidence that the financial bail guarantee could be covered.
She sat again after lunch when the sureties were approved.
A friend of Downey's agreed to provide surety of 30,000 euro (£26,000) while Downey is to lodge his own bond of 5,000 euro.
He was ordered to abide by a number of bail conditions including signing on every day at a garda station, residing at his own house, providing his mobile number to gardai and attending the High Court when ordered to do so.
The Sinn Fein member, wearing a red jumper and checked shirt, remained impassive during the court proceedings.
His defence barrister Tony McGillicuddy had earlier told the judge that Downey has had "a commitment of working in a positive manner in the Irish peace process since the early 1990s", and had carried out functions in that regard with a number of agencies.
Mr McGillicuddy said that he engaged positively in meetings around the peace process and has a "strong commitment" to it over the last 20 years.
The two Ulster Defence Regiment soldiers died when an IRA bomb exploded in a car they were checking on Irvinestown Road, Cherrymount, Enniskillen, on August 25 1972.
Downey's prosecution for the Hyde Park bombing collapsed when it emerged he had received a UK government letter issued under the terms of the controversial On The Runs (OTRs) scheme.
In 2014, trial judge Mr Justice Sweeney ruled that Downey's arrest at Gatwick Airport, as he transited the UK on the way to a holiday, represented an abuse of process and he put a stay on any future prosecution in relation to the Hyde Park case.
The episode sparked a government inquiry into the OTR scheme.
Downey has always denied any involvement in the Hyde Park attack.