A senior Cabinet minister has insisted it is "not normal" for the Government to publish full legal advice amid mounting pressure to release documents linked to Brexit.
Health Secretary Matt Hancock said Attorney General Geoffrey Cox, the Government's chief legal adviser, could answer questions in the Commons and added a decision to release legal advice would be one in "exceptional circumstances" by the Prime Minister.
But he added he is more concerned over whether the deal is good or bad rather than all MPs seeing such advice, while also expressing wider concerns about Cabinet being "bounced" into Brexit decisions.
Theresa May's minority Government allies the DUP and Brexiteer MPs, including Environment Secretary Michael Gove, are among those who want to see the full legal advice setting out how any customs arrangement to avoid a hard Irish border could be ended to avoid it becoming a permanent settlement.
A Commons vote on the documents could be forced when Parliament returns after its mini November recess, which would pile further pressure on the Prime Minister – who will travel to Belgium on Thursday to attend a working dinner with Nato leaders.
Elsewhere, European Council president Donald Tusk and European Commission president Jean-Claude Juncker will deliver speeches in Finland.
UK Cabinet ministers have been invited to review the text of the withdrawal agreement which has so far been secured in negotiations with Brussels.
Mrs May last month told MPs that 95% of the deal had been agreed, although the key sticking point of the "backstop" to prevent a hard border between Ireland and Northern Ireland remained unresolved.
After a marathon session on Tuesday, the Cabinet is on stand-by for fresh talks to agree a Brexit deal if there are further developments.
The PM's plan would see the whole UK effectively agree to remain in the customs union to help avoid a hard border with Ireland as a backstop if no other arrangement can be found.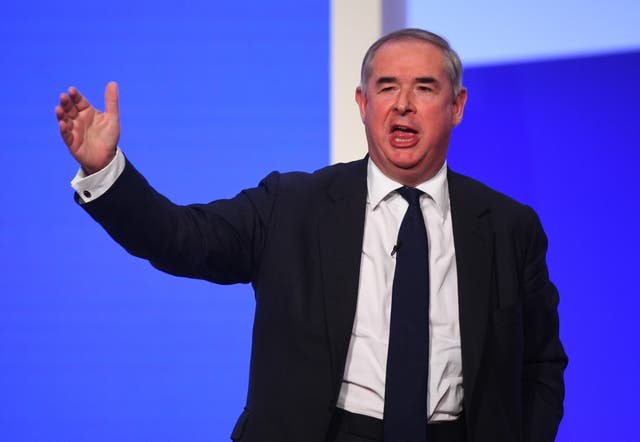 Legal advice is usually confidential, and Mr Hancock told ITV's Peston: "We've got a brilliant Attorney General, who sets out the legal position… he can answer questions in the Commons, but it's not normal to publish the legal advice.
"That's a decision in exceptional circumstances for the Prime Minister."
Mr Rees-Mogg offered his thoughts on the legal advice, before broadening out to tell the same programme: "There is a concern that the Cabinet is not being fully involved in this, it's getting information at a late stage, there is an appearance of it being bounced, you hear of ministers getting 45 minutes to read crucial documents before Cabinet meetings, this is not a serious constitutional approach."
Mr Rees-Mogg said he and his Tory colleagues were not certain to vote against a deal as they have yet to see it but added he was sticking to the Conservative Party manifesto pledge of the UK leaving the customs union.
He went on: "It didn't say that we'd leave it subject to extending it for years and years and years potentially.
"So yes, you're absolutely right, if there was an extension to the customs union, I'd vote against it because it denies what the Prime Minister herself has said and promised and I expect the Prime Minister to deliver on her promises."
Asked how many of his colleagues feel the same way, Mr Rees-Mogg replied: "I think the people who are not happy with this approach is a significant number – many dozens."