The number of drug seizures by police and Border Force officers has fallen to its lowest level since 2004, new figures reveal.
Authorities made 135,728 drug seizures in England and Wales in 2017-18, a 2% decrease compared with the previous year.
This was the sixth consecutive annual fall and the lowest number since 2004, when there were 107,359 seizures.
"Therefore, the number of drug seizures each year should not be taken as a measure of drug prevalence in England and Wales."
The paper said the total number of drug seizures per year is generally highly correlated with the number of police-recorded drug offences.
In 2017-18, police recorded 136,355 drug offences, a slight fall compared with the previous 12 months.
Over the same period, seizures by police forces dipped by 2% to 129,183.
Since peaking in 2008-09, the number of recorded drug offences has decreased by 44%, which has been mirrored by 45% fall in police seizures.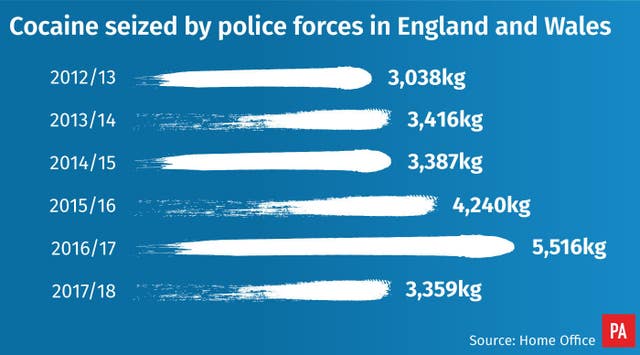 While the agency accounted for only one in 20 confiscations, its seizures tended to be for larger quantities of drugs.
Figures on specific substances revealed contrasting patterns.
There were 15,257 seizures of cocaine in 2017-18, which was up 2% on the previous year.
However, the quantity of cocaine seized fell by 39%, from 5,516 kilograms in 2016-17 to 3,359 kilograms in 2017-18.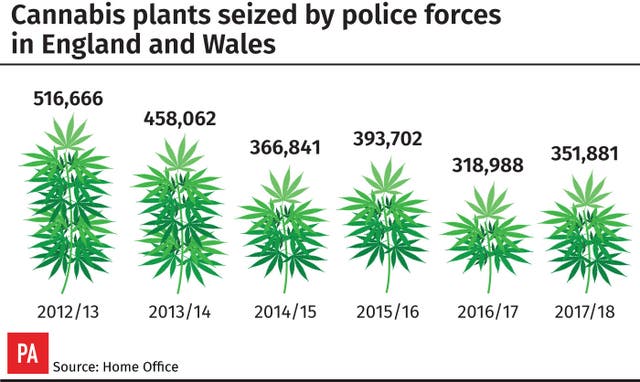 Over the same period, the quantity of herbal cannabis recovered more than doubled from 11,861 kilograms to 28,666 kilograms.
The annual report also included for the first time statistics on seizures of new psychoactive substances.
There were 1,523 seizures of NPS  in 2017-18. Synthetic cannabinoids were the most commonly seized type of the substances.
NPS were known as "legal highs" until they were made subject to a blanket ban in 2016.
A Home Office spokeswoman said: "Drugs can devastate lives, ruin families and damage communities.
"The Government is taking this seriously and is committed – through three key strategies backed by millions of pounds of funding – to tackling the illicit drug trade, protecting the most vulnerable and helping those with a drug dependency to recover and turn their lives around.
"The Home Secretary also recently announced a major review of drugs, which includes a focus on the illicit market."