New equipment has been added to Scotland's winter fleet as transport chiefs plan how to keep the country moving in the months ahead.
More support and information is also being made available to drivers to help them make decisions about their journeys in wintry conditions.
It comes following the Beast from the East earlier this year which saw hundreds of drivers stranded on the M80 overnight as a red weather warning for snow was in place across central Scotland.
Transport Scotland said that specialist snow plans are being developed for the M8, M74, M77 and M80 in conjunction with operating companies and Police Scotland, following the "significant snow events" on these routes in recent years.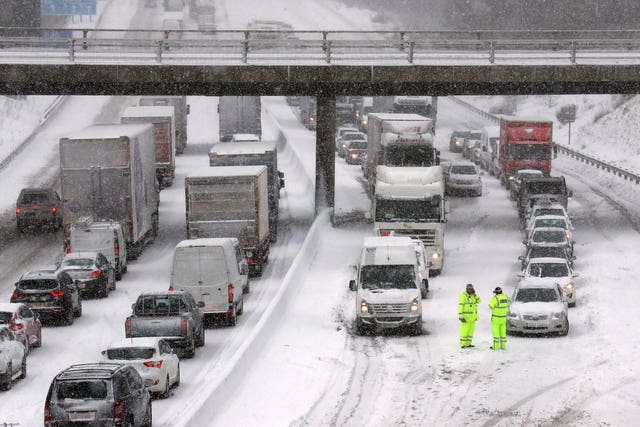 A Hilltip Icestriker from Finland, fitted with a V plow, will be trialled on the M80 to ensure recovery teams can access incidents in the most challenging conditions.
Transport Secretary Michael Matheson said: "We can't prevent the challenging weather we see during the winter period but our teams work all year round to ensure we're fully prepared and ready to respond when difficult conditions set in.
"The challenges faced during the 'Beast from the East' are still fresh in the memory, so we have looked to make improvements across the board, from equipment and treatments to information and advice for travellers.
"As always, the Traffic Scotland mobile site – my.trafficscotland.org – provides up-to-date information on the trunk road network, the @trafficscotland twitter page is regularly updated and the popular gritter tracker is also available.
"Transport Scotland officials will continue to work with Police Scotland, the Met Office and other partner organisations to ensure we have a joined-up approach to keep Scotland moving this winter."
Representatives from Police Scotland and the Met Office will be based at the Traffic Scotland national control centre in South Queensferry during the winter period.
Police Scotland has revised its travel advice to ensure drivers get clear, concise advice on conditions.
Assistant Chief Constable Mark Williams said: "Motorists found the numbering system we were using to indicate the severity of travel warnings confusing as it didn't directly relate to the weather warnings issued by the Met Office. As a result, we've decided to replace it with a system which is more specific and targeted.
"Our new system will make advice much clearer for drivers of all types of vehicles and we'll be issuing specific guidance to drivers of goods vehicles, buses and also to drivers of vehicles which may be vulnerable to being blown over on exposed routes.
"Winter driving is a question of common sense and drivers should ask themselves if they really need to travel when conditions are poor."
Police advised motorists to ensure they have sufficient fuel and supplies such as warm clothing, food and water and a charged mobile phone.
The Met Office revised its own weather warnings earlier this year and has launched a daily YouTube broadcast, dedicated to conditions in Scotland.