Cabinet ministers appeared at odds over whether the UK could secure a unilateral exit from a Brexit backstop deal on Northern Irish border arrangements.
Education Secretary Damian Hinds said such an outcome would be "very, very unlikely", while Commons Leader Andrea Leadsom insisted the UK must be able to leave any customs agreement.
Mr Hinds told BBC1's The Andrew Marr Show a solution to the issue needed to be negotiated.
He said: "If you have too hard a line about saying, 'well we must just have a totally unilateral exit, or there's an absolutely fixed, hard end date', that is… very, very unlikely that is going to be negotiable with the other side.
"On the other hand, people here rightly want comfort and they should be able to have comfort and confidence that it isn't an open-ended thing."
Mrs Leadsom insisted the UK "cannot be held against its will" in a backstop customs arrangement with the EU, and claimed MPs would not support a scenario in which Britain could not decide when to leave.
She told BBC Radio 5Live's Pienaar's Politics: "It cannot be a decision that can be overturned by the European Union, it must be capable for the United Kingdom to decide to leave that customs arrangement and it cannot be something the European Union can hold us to.
"Frankly, it's because that would be to then fail to fulfil on the will of the people expressed at the referendum and I very much doubt we'd get it through Parliament."
Mrs Leadsom told the BBC: "I am working towards getting a deal that does not require the UK to be stuck, trapped in a customs arrangement.
"That's what I'm working towards and I'm sticking in the Government to make sure that's where we get to in the end.
"I don't think something that trapped the UK in any arrangement against our will would be sell-able to members of parliament."
"You cannot expect the Labour Party to save you from your own backbenchers who are saying this deal makes no sense – and everybody knows it doesn't make sense."
The comments came after hardline Tory Brexiteers and the DUP joined forces to warn they are prepared to vote down Mrs May's EU withdrawal plans.
In a stark warning to the PM, Tory Brexiteer Steve Baker, deputy chairman of the 80-member European Research Group (ERG) of Conservative backbenchers, and the DUP's Brexit spokesman, Sammy Wilson, said they would oppose any agreement which they thought threatened the union and could put a trade border down the Irish Sea.
Writing in The Sunday Telegraph, they said: "We share the Prime Minister's ambition for an EU free trade agreement, but not at any price, and certainly not at the price of our union.
"If the Government makes the historic mistake of prioritising placating the EU over establishing an independent and whole UK, then, regrettably, we must vote against the deal."
With the shock resignation of pro-Europe transport minister Jo Johnson continuing to cause ructions in Tory ranks, Mrs May is running out of time to seal an EU exit agreement.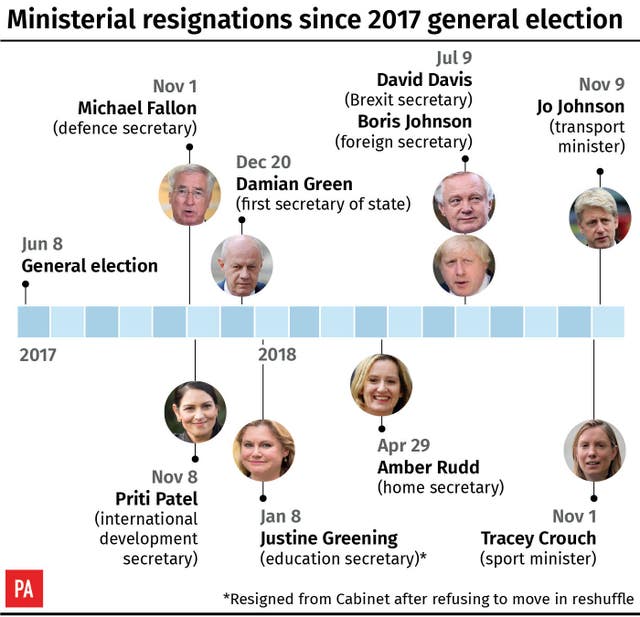 In the wake of Mr Johnson's resignation, there have been reports that other ministers are considering quitting over Brexit.
Brexiteers have insisted that the UK should not get involved with a potentially permanent backstop customs union agreement with the EU as the price of avoiding a hard border in Northern Ireland.