Hopes that Theresa May's Cabinet might sign off a Brexit deal on Tuesday appear to have been dashed, as both the EU and UK sides said issues remain to be settled.
Downing Street said that reports that Brussels' chief negotiator Michel Barnier expected the "parameters" of a deal to be presented to ministers for approval at their regular weekly meeting should be taken "with a bucket of salt".
It is not thought that any deal will be on the table at the Cabinet meeting in 10 Downing Street, which will instead hear an update on negotiations and discuss preparations for a possible no-deal withdrawal from the EU.
The Prime Minister's official spokesman rejected suggestions that Wednesday represents a hard deadline, repeating Mrs May's position that she wants a deal "as soon as possible" but that it "can't be at any cost".
Meanwhile, one Brexit-backing Cabinet minister cautioned that the Prime Minister would not have a free hand in pushing her plans through.
International Development Secretary Penny Mordaunt told Sky News: "The important thing is that there are two checks on this deal – there is Cabinet and there is Parliament.
"Cabinet's job is to put something to Parliament that is going to deliver on the referendum result."
The PM's spokesman said: "The Cabinet has backed the Prime Minister in moving forward with her negotiations with the EU and I expect Cabinet will continue to do so."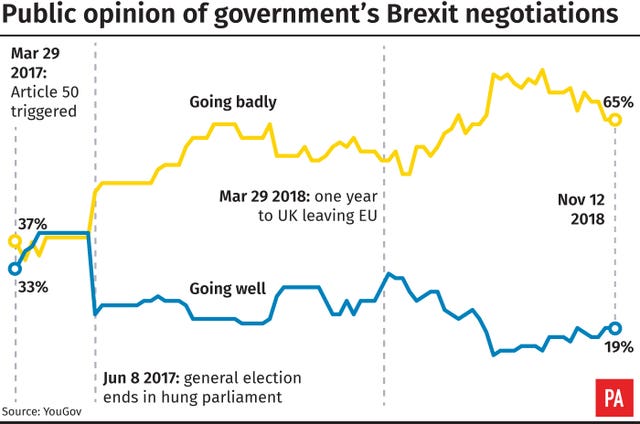 Downing Street said that there were "substantial issues still to be overcome" in relation to the "backstop" measure aimed at ensuring the frontier between Northern Ireland and Ireland remains open no matter what happens in the wider Brexit trade deal.
The PM's spokesman said: "We have made good progress in the negotiations in relation to the withdrawal agreement but there are substantial issues still to be overcome in relation to the Northern Irish backstop."
Mr Barnier told ministers from the 27 remaining EU nations at a meeting of the general affairs council that key issues remained unresolved.
"Michel Barnier explained that intense negotiating efforts continue, but an agreement has not been reached yet," said an official statement.
"Some key issues remain under discussion, in particular a solution to avoid a hard border between Ireland and Northern Ireland."
A witness to the meeting told the Financial Times that the chief negotiator had told the EU27 ministers that "the parameters of a possible agreement are very largely defined" and that the UK Cabinet would meet to examine them on Tuesday.
But ministers emerging from the meeting did little to encourage expectations of an early resolution.
Ireland's deputy prime minister Simon Coveney told reporters in Brussels said there was "still clearly work to do" to reach an agreement.
And a senior Brussels source said that work was "ongoing", adding: "We're not there yet."
Germany's Europe minister Michael Roth said: "We all know the clock is ticking and we must now come to a good outcome. We don't have much time left."
His French counterpart Nathalie Loiseau said: "The ball is in the British court. It is a question of a British political decision."
The lack of decisive progress in Brussels came as further details emerged of reported reservations voiced about Mrs May's strategy by senior ministers at the crunch Chequers meeting in July.
Home Secretary Sajid Javid, Defence Secretary Gavin Williamson and Chancellor Philip Hammond were among Remain-supporting ministers who raised concerns about the Chequers plan, the BBC reported.
Mr Javid described the proposal for a common rule book with the EU for goods and agriculture as "very worrying", while Mr Hammond questioned whether the 27 other countries in the union would accept such a plan, the broadcaster said.
Former transport minister Jo Johnson said he decided to quit Mrs May's Government last week because he was concerned at reports she was planning a publicity campaign which he said amounted to a "calculated deceit".
Reports suggested the campaign would compare the content of any deal secured by Mrs May with the prospect of a chaotic no-deal withdrawal, rather than comparing it to the UK's current situation as an EU member.
"I challenge the Government to come clean on the cost of Brexit," he told the Evening Standard.
"The reason they can't look us in the eye, it's because they know this will leave us worse-off and with less control. It's a gross abuse of civil service impartiality."
Mr Johnson added: "There is a sea-change in mood among my Conservative colleagues who are focused by this crisis. I would not be surprised if more colleagues in senior positions speak out."
His brother, former foreign secretary Boris Johnson, claimed Mrs May is on the brink of "total surrender" to the EU over Brexit as he urged the Cabinet to mutiny against the Prime Minister's withdrawal agenda.