Leading Brexiteer Jacob Rees-Mogg has submitted a letter of no confidence in Theresa May, as the Prime Minister reels from the loss of four ministers – including two from her Cabinet – in protest at her Brexit plans.
Mr Rees-Mogg, who chairs the European Research Group of Eurosceptic Tories, said he expected the threshold of 48 MPs' letters to be passed, triggering a vote on Mrs May's future. But he denied mounting a coup and said he was not putting himself forward as her successor.
Two more junior ministers – Suella Braverman at the Brexit Department and Shailesh Vara at Northern Ireland – also quit along with two parliamentary aides.
In a letter to Sir Graham Brady, chairman of the backbench 1922 Committee, Mr Rees-Mogg said Mrs May's deal "has turned out to be worse than anticipated and fails to meet the promises given to the nation by the Prime Minister, either on her own account or on behalf of us all in the Conservative Party manifesto".
His move is expected to be matched by other members of the ERG, hugely increasing the chances of Mrs May facing a vote of no confidence in her leadership. It is not known how many letters Sir Graham has received so far.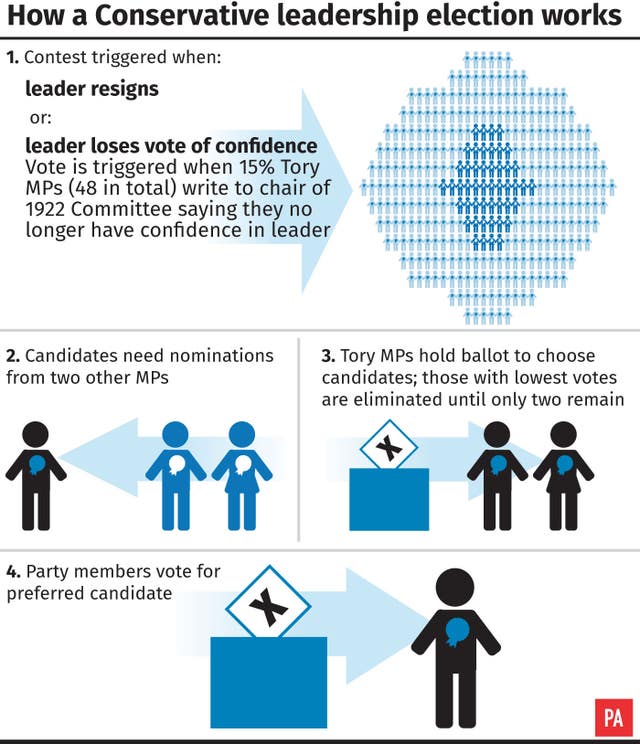 There was laughter from opposition benches when the PM said her deal would allow the UK to leave the EU "in a smooth and orderly way" on March 29.
Mrs May insisted the deal was in the national interest and offered a future relationship with "a breadth and depth of co-operation beyond anything the EU has agreed with any other country".
In a swipe at her Brexit-backing critics, she said the EU would never accept any agreement which did not involve a "backstop" arrangement to ensure the Irish border remains open.
Mrs May said it would be "entirely irresponsible" for the Government to have simply torn up the backstop.
"The Brexit talks are about acting in the national interest and that means making what I believe are the right choices, not the easy choices," she said.
"We can choose to leave with no deal, we can risk no Brexit at all, or we can choose to unite and support the best deal that can be negotiated."
But chief whip Julian Smith later told reporters Mrs May would not be budged.
"The Prime Minister is moving things on in the best interests of the country," he said. "The Prime Minister will not be bullied and will not change course."
The shock departures of Mr Raab and Ms McVey came within little more than an hour of one another as Mrs May prepared to face MPs.
Their resignations were followed by Anne-Marie Trevelyan quitting as an unpaid parliamentary private secretary in the Department for Education and Ranil Jayawardena leaving the same post in the Ministry of Justice.
The developments threaten to derail the Prime Minister's Brexit strategy ahead of a crucial EU summit, which European Council president Donald Tusk confirmed would take place on November 25, "if nothing extraordinary happens".
Speaking to reporters outside Parliament, Mr Rees-Mogg said he believed the letters needed to trigger a vote of no confidence would be submitted, but declined to say how soon. If Mrs May was ousted as leader, a contest to choose a successor could be completed "not in months, but weeks", he said.
He refused to name his preferred successor, but he identified Mr Raab, Ms McVey, Boris Johnson, David Davis and Penny Mordaunt as potential candidates.
"This is nothing to do with the ambition of Brexiteers," he said. "It is everything to do with the ambition of Brexit for this country."
Dismissing Mrs May's plan, he said: "This is not Brexit. It is a failure of Government policy. It needs to be rejected."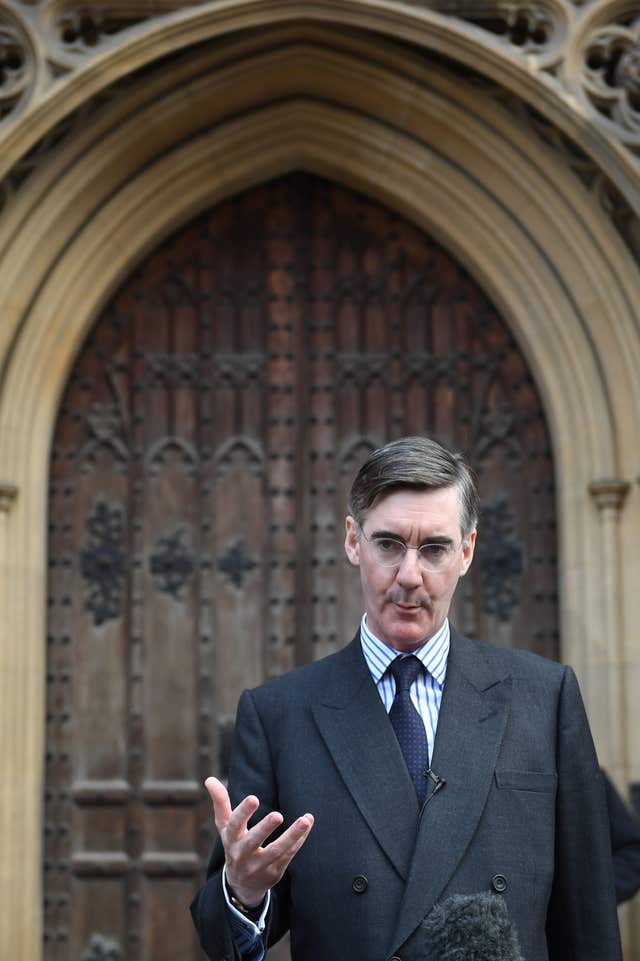 Labour said the Government was "falling apart before our eyes" and the pound dropped sharply as the turmoil in Westminster sparked doubts over whether the PM could force her deal through Parliament.
Sterling dropped 1.5% to just below 1.28 US dollars and was 1.4% lower at 1.13 euro.
In his letter to the Prime Minister, Mr Raab said the deal represented a "very real threat to the integrity of the United Kingdom" because of provisions for Northern Ireland.
He also said he could not accept "an indefinite backstop arrangement" for the Irish border.
He said: "No democratic nation has ever signed up to be bound by such an extensive regime, imposed externally without any democratic control over the laws to be applied, nor the ability to decide to exit the arrangement."
Ms McVey, who was promoted to the Cabinet by Mrs May in January, was reported to have been close to tears as she tried to force a vote on the Brexit deal in Wednesday's Cabinet.
In a letter to the PM, the Tatton MP cited concerns over the future of the Union and a lack of control over money, law, borders and trade policy under a deal she felt kept the UK too close to Brussels.
"The British people have always been ahead of politicians on this issue, and it will be no good trying to pretend to them that this deal honours the result of the referendum when it is obvious to everyone that it doesn't," wrote Ms McVey.
"We have gone from no deal is better than a bad deal, to any deal is better than no deal.
"I cannot defend this, and I cannot vote for this deal. I could not look my constituents in the eye were I to do that."
Ministers and ambassadors of the remaining 27 EU states will work to finalise by next Tuesday the political declaration on future relations with the UK, published in outline form on Wednesday, he said.
Welcoming the UK Cabinet's collective agreement to accept the withdrawal document, Mr Tusk said: "Of course, I do not share the Prime Minister's enthusiasm about Brexit as such.
"Since the very beginning, we have had no doubt that Brexit is a lose-lose situation and our negotiations are only about damage control."
He sent a message to the British people: "As much as I am sad to see you leave, I will do everything to make this farewell the least painful possible, both for you and for us."