The Cabinet agreement on Theresa May's Brexit deal makes headlines in the UK, Ireland and further afield on Thursday.
But views of the deal vary differently, with the Irish Examiner calling it a "Victory in Dublin, chaos in London", Danish paper Berlingske saying British people "are beginning to understand the EU is not a buffet" and Belgian daily Het Nieuwsblad writing, "The door opened and Europe said 'oof'".
The Examiner writes that Taoiseach Leo Varadkar has claimed a "Brexit victory" for Ireland as the deal guarantees no hard border for the island of Ireland.
The paper contrasts Ireland appearing to get what it wants from the deal to the "threatened open revolt" in Westminster against the agreement.
To the UK, and the papers talk of "splits" and "cracks", but seem to largely be united in casting doubt on the Prime Minister's ability to get her deal through Parliament.
Mrs May's former chief of staff Nick Timothy writes in the Daily Telegraph that the deal is a "capitulation" and that the European Commission knows it has won "hands down", while the main story accuses of "railroading" the deal through Cabinet.
The Times reports Mrs May used the threat of "no Brexit at all" to get the deal through Cabinet.
The paper's leader says there is "no question that it falls far short of the sunlit uplands that voters were promised during the referendum", but warns on the risks of the alternatives.
"The national interest requires responsible MPs to make a simple choice: back Mrs May or gamble on a second referendum," it concludes.
And the Sun puns on Brexit for its front-page headline, saying that Mrs May's "soft deal" is "blasted by all sides".
Inside the paper, the leader column says the public have been "sold a pup again and again" when questioning how Britain can made trade deals post-Brexit if the EU wants to keep the country in a customs union.
The headline is a lot more gloomy than June 24 2016 when the headline was "See EU later!", with the paper referring to Britain's "big brexfast".
Many papers in continental Europe have played the tale with a straight bat.
Der Standard in Austria carries the headline "Theresa May and the struggle for a Brexit deal", with the paper saying the agreement with Brussels was "considered to be the easier part" for Mrs May in the "thriller" of Britain's departure from the EU.
Sweden's Dagens Industri runs with the headline "Hard fight for Brexit deal" and Neue Zurcher Zeitung in Switzerland writes that the Brexit deal is tied to Theresa May, saying it "holds and falls" with her.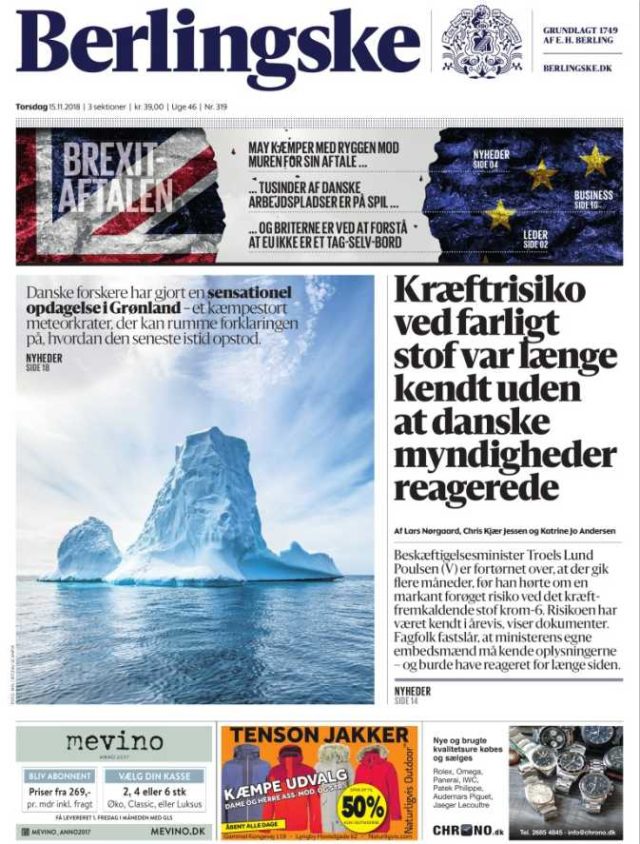 In Belgium, La Libre Belgique runs with Mrs May getting the "green light for an amiable divorce", while Le Soir says the "biggest obstacle remains", but L'Echo calls it a "crucial step".