Theresa May was dealt a blow on the morning after Cabinet agreed her Brexit plan, as a minister resigned from her Government saying that the British people "deserve better" than the deal on offer.
Shailesh Vara quit as minister of state for Northern Ireland, saying he cannot support Mrs May's agreement, which he said "leaves the UK in a halfway house with no time limit on when we will finally be a sovereign nation".
His resignation came as European Council president Donald Tusk announced an extraordinary meeting of EU leaders in Brussels on November 25, at which the withdrawal agreement and a political declaration on future relations will be finalised and formalised.
Westminster was braced for further resignations, amid widespread expectations that the Prime Minister may face a challenge to her position from Conservative MPs submitting letters of no confidence in her leadership.
But she now faces a battle to get it through Parliament as pro-Leave Conservative MPs – as well as some Remainers – lined up to condemn the plan, accusing her of breaking promises and leaving the UK at the mercy of Brussels.
"We can and must do better than this. The people of the UK deserve better."
Mr Vara, a former Conservative vice chairman who has served as a whip and on the frontbenches for the bulk of his career since entering Parliament in 2005, backed Remain in the 2016 referendum.
In Brussels, Mr Tusk was handed a copy of the 585-page withdrawal agreement by EU chief negotiator Michel Barnier.
Ministers and ambassadors of the remaining 27 EU states will work to finalise by next Tuesday the political declaration on future relations with the UK, published in outline form on Wednesday, he said.
Welcoming the UK Cabinet's collective agreement to accept the withdrawal document, Mr Tusk said: "Of course, I do not share the Prime Minister's enthusiasm about Brexit as such.
"Since the very beginning, we have had no doubt that Brexit is a lose-lose situation and our negotiations are only about damage control."
And he sent a message to the British people: "As much as I am sad to see you leave, I will do everything to make this farewell the least painful possible, both for you and for us."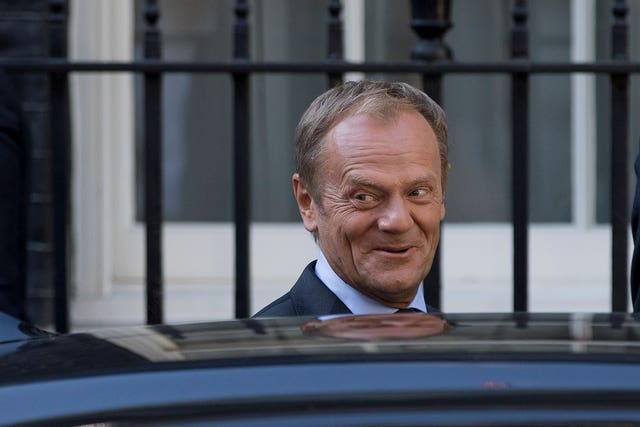 As Mrs May prepared to make a statement on the Brexit agreement to the House of Commons on Thursday, the precariousness of her position was underlined as a Brexit-backing Tory claimed that the chairman of the backbench 1922 Committee Sir Graham Brady may already have received the 48 MPs' letters needed to trigger a vote of no confidence in the leader.
Anne Marie Morris told BBC2's Newsnight: "My belief – but it is a belief without evidence, because Graham keeps it close to his chest – is that we do have the 48.
"What depends on whether or not they can be used is whether or not those members who have put them in give him the go-ahead. He has them, but subject to (approval)."
Prominent Brexiteer Jacob Rees-Mogg – the leader of the pro-Brexit European Research Group – has written to all Tory MPs urging them to vote against Mrs May's deal when it comes before the Commons, probably in early December.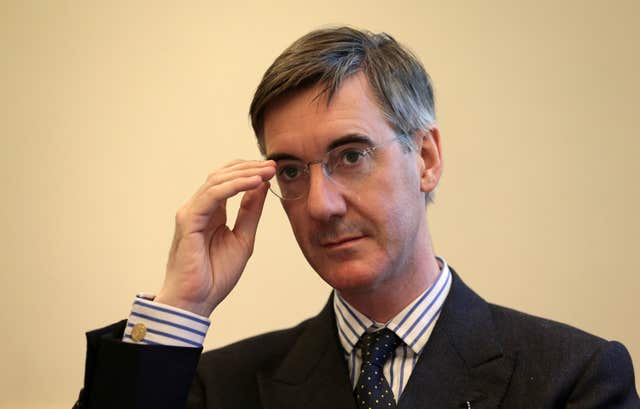 "Certainly this has dented my confidence," he told ITV's Peston programme. "Politics depends on trust and this document is shattering to trust."
While the Cabinet agreed to collectively support the agreement, there was speculation that some ministers were so unhappy that they could still quit in protest.
Reports suggested as many as a third of the 28 ministers attending the meeting in No 10 voiced doubts about the deal.
Nick Timothy, Theresa May's former chief of staff, wrote in the Daily Telegraph that Parliament will "surely" reject the proposal.
"The proposal presented to Cabinet is a capitulation," he wrote.
"Worse, it is a capitulation not only to Brussels but to the fears of the British negotiators themselves, who have shown by their actions that they never believed Brexit could be a success.
"This includes, I say with the heaviest of hearts, the Prime Minister."
Work and Pensions Secretary Esther McVey was said to be particularly upset amid reports she was shouted down after she tried to press for the agreement to be put to a vote.
Mrs May has acknowledged she faces "difficult days ahead" as she attempts to win round critical MPs.
Speaking outside 10 Downing Street following the crunch Cabinet meeting, she insisted the deal was "in the best interests of the United Kingdom" and warned Brexiteers that if they failed to back her plan they risked ending up with "no Brexit at all".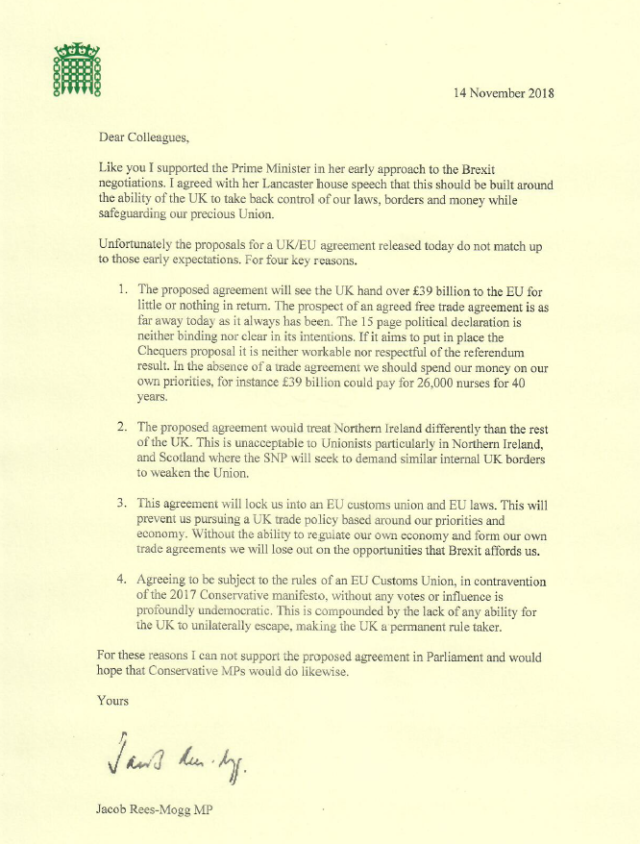 But with the DUP – whose 10 MPs prop up Mrs May in the Commons – voicing their unhappiness at the agreement, and the prospect of a significant Tory backbench revolt, it is hard to see how ministers can make the numbers add up.
Shadow Brexit secretary Sir Keir Starmer told ITV's Good Morning Britain the deal was a "miserable failure of negotiation" and it was a "second-rate document".
He said: "It's a chaotic ending and the root cause is the utter division on the Conservative benches."
But Health Secretary Matt Hancock said MPs should back the plan because the alternatives of a no-deal Brexit or a second referendum are "ugly".
Mr Hancock told the BBC that "anybody in any compromise negotiated document can pick out individual parts that they would prefer were written differently" but insisted that a vote for the deal was nonetheless in the national interest.
Senior UK Government officials said the final text of the withdrawal agreement featured important gains for the UK on the so-called backstop arrangements to be implemented if no trade deal can be reached.
Under backstop arrangements designed to keep the Irish border open, if no trade deal is agreed by the end of the transition period in December 2020, a temporary "EU-UK single customs territory" would be established.