Two police officers who were repeatedly stabbed while trying to arrest a man have been praised for their bravery.
Police Investigations and Review Commissioner (Pirc) launched an inquiry into the incident, which took place in Greenock in June, to consider the actions of the officers who responded to the scene.
The incident saw Pc Laura Sayer and Pc Kenneth MacKenzie stabbed on their neck, arms and face while they were trying to arrest him in his home.
The attacker was knocked over by a police vehicle in order to incapacitate him, an action described as "necessary and appropriate".
Commissioner Kate Frame said: "The two officers who initially went to the man's home were subjected to a sustained and violent attack, during which they were repeatedly stabbed.
"Despite being seriously injured and bleeding heavily, one of the officers managed to pursue the man into the street where there were a number of people going about their daily business."
They had used an incapacitant spray on the man but it had no effect.
After being stabbed, both officers made several calls requesting immediate assistance and provided updates to the police control room.
The man fled his home armed with a knife and went into the street, where there were several members of the public present.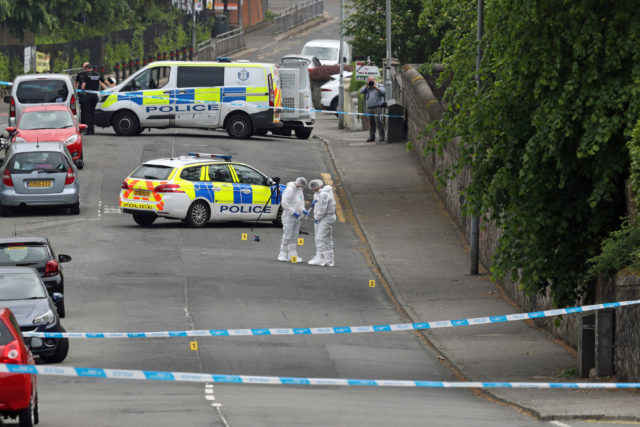 He was deemed to pose a serious risk, so the driver decided to drive towards him at a low speed to disarm or incapacitate him.
The man hit the car's bonnet and fell to the ground before getting up and then attempting to stab the officer.
After a short chase, the man was arrested.
Ms Frame added: "When the driver saw the man with a large knife in his hand, walking back to his distressed and injured colleague who was bleeding heavily, he considered that due to the lack of other tactical options, to use the car to strike the man at low speed, with the intention of disarming or incapacitating him.
"I consider that in the circumstances that action was necessary and appropriate and that all the officers involved in this traumatic incident demonstrated extreme bravery and displayed the utmost professionalism in swiftly bringing the incident to an end without any further injuries, either to other officers or members of the public."
No recommendations were made by the watchdog.
Nine officers had attended the address, initially in support of colleagues from a partner agency.
All were commended by Chief Constable Iain Livingstone at a ceremony last week.
Chief Superintendent Gordon Crossan, divisional commander for Renfrewshire and Inverclyde, said: "This was a traumatic incident for all involved but in very difficult circumstances, our officers responded quickly and decisively to ensure the incident was brought to an end.
"Laura and Kenneth have received so much support from their colleagues in Police Scotland and the wider community over the past few months and we are very grateful that they are both recovering well from their injuries.
"I am full of admiration and pride for them both, as well as their colleagues who were with them on the day and acted so courageously to come to their aid."
A 43-year-old man was detained for mental health treatment following the incident.