Banning the mechanical harvesting of kelp would send a "chilling" message to science companies in Scotland, industry leaders have warned.
Tom Shields, chairman of industry body Chemical Sciences Scotland, warned the country risked no longer being seen as a competitive place for science-based businesses.
He spoke out as MSPs prepare to vote on legislation that could ban mechanical harvesting of kelp in Scotland's waters.
Ayr based firm Marion Biopolymers (MBL) has warned if this goes through, Scotland could lose out on an industry potentially worth up to £300 million.
The company wants to harvest 30,000 tones of kelp a year from the waters off Scotland's  west coast,  with the firm insisting the nanocellulose that can be produced from this has a range of possible applications, varying from "invisible armour"  slow release cancer drugs to  a new alternative to medical mesh.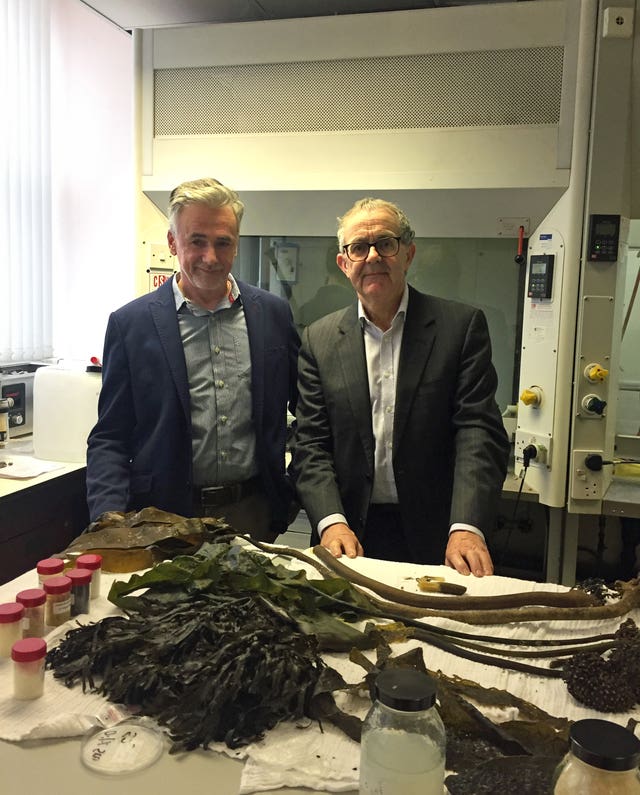 "MBL has taken eight years to build, working with regulators all along the way.
"Now it faces being blocked from operating in Scotland because MSPs have been besieged by a campaign determined to stop MBL before regulators can even consider its plans, or the objectors' arguments against them."
He added: "Businesses need to be confident that Government regulatory processes will be upheld.
"Without that confidence, Scotland won't be considered a competitive place to build a science-based business and we'll lose future investment opportunities to other countries.
"In our industry, regulatory certainty is absolutely critical.
"Chemical and biotech businesses are capital intensive, long-term investments and companies simply can't take the risk that Government's regulatory procedures will be bypassed because of a campaign."
So far more than 20,000 people have signed a petition calling for the mechanical harvesting of kelp to be banned.
Ailsa McLellan, an oyster farmer from Ullapool and founder of the No Kelp Dredging campaign, said:  "Seaweed hand pickers like us currently operate under strict rules set by the Crown Estate, designed to ensure that we harvest kelp in a sustainable way.
"To allow the industrial removal of kelp would make a mockery of those rules and undermine the future of the kelp forests we all rely on.
"The focus of seaweed harvest should be small-scale operators working sustainably from within communities and keeping those communities alive – and possibly cultivation in the future.
"Kelp forests are habitats which underpin the coastal biodiversity that supports so many small businesses. They are a public asset, not something to be stripped for private profit. "
As it stands, the Scottish Crown Estate Bill would ban the removal of entire kelp plants after Green MSP Mark Ruskell successfully changed the legislation.
But science sector leaders spoke out ahead of the Bill being debated by the entire Scottish Parliament on Wednesday, warning a ban would be "a classic own goal by Scotland".
Dave Tudor, co-chairman of Life Sciences Scotland, said: "Everyone's entitled to an opinion about what's acceptable and what's not but it's critical that issues like environmental sustainability are judged by experts, using sound science.
"Public opinion is important but it should be weighed up alongside expert analysis to ensure the right outcome for Scotland.
"Established regulatory processes should be followed in cases like this, otherwise we'll potentially damage Scotland's reputation and pay a high price in terms of missed opportunities."
Roger Kilburn, CEO of the Industrial Biotechnology Innovation Centre, said: "We're trying to make Scotland the 'go to' place for people who want to build IB businesses.
"But the impact of this 'kelp clause' is much bigger than its direct impact on MBL, a flagship project in our £900 million National IB Plan.
"If MBL can't operate here and other businesses are put off coming, we'll have a gaping hole in our ambition. It would be a classic own goal by Scotland."
Fiona Houston, CEO of Mara Seaweed, a Scottish company that sustainably gathers seaweeds and has 12 staff in Scotland said: "It is our view that to support kelp dredging would be damaging, short-sighted, and counter-productive at this crucial early stage in the development of a viable Scottish seaweed sector.
"As importantly it jeopardises Scotland the Brand as a land that values and curates its natural capital."
Charles Millar, executive director of Sustainable Inshore Fisheries Trust (SIFT) and the founder of  the Help the Kelp campaign, said: "Kelp as a raw material can be sourced from cultivation without resorting to industrial-scale dredging of our sea bed which threatens to worsen coastal erosion, undermine fish stocks and jeopardise existing jobs.
"With cultivation, Scotland can have a successful seaweed-based industry which works in harmony with the hundreds of existing businesses which rely on our kelp forests, from fishing and marine tourism to hand-harvesters and aquaculture."