The value of frozen Libyan assets held by the UK has risen to £12 billion but they cannot be used to compensate victims of its support for Irish republican terrorism, the Government has disclosed.
Restrictions on how the seized money can be handled means part of the massive fund is in "negative yield", witnesses told the Northern Ireland Affairs Committee at Westminster.
Ministers were accused by public representatives of treading water on efforts to secure reparation payments to victims of Libyan-sponsored IRA attacks while large sums languished in sealed coffers.
Foreign and Commonwealth Office minister Alistair Burt said the North African country's Government was primarily responsible for helping those who had suffered but British ministers were trying to facilitate progress.
DUP East Londonderry MP Gregory Campbell said: "That sounds like a Government that is prepared to tread water with no end in sight."
A previous Libyan regime armed the Provisionals with massive amounts of weaponry, extending the Northern Ireland conflict and causing enormous human suffering, the committee has said.
Chairman Andrew Murrison said he was disappointed no progress appeared to have been made on securing financial help for survivors of the violence after Mr Burt faced questioning for more than an hour.
Government witnesses told the committee the value of the impounded cash had risen to £12 billion but admitted parts of the fund had performed poorly because of international restrictions.
Mr Campbell said the Government should admit its approach was not working.
North Down MP Lady Sylvia Hermon said: "This is a burning injustice."
DUP North Antrim MP Ian Paisley added: "Nothing is going to happen – except victims are going to die."
Mr Burt said there was international pressure for a resolution with the oil-rich state.
"Money is available for the repair of Libya and establishment of a responsible government as well as making sure… it can meet its obligations of the past and the future."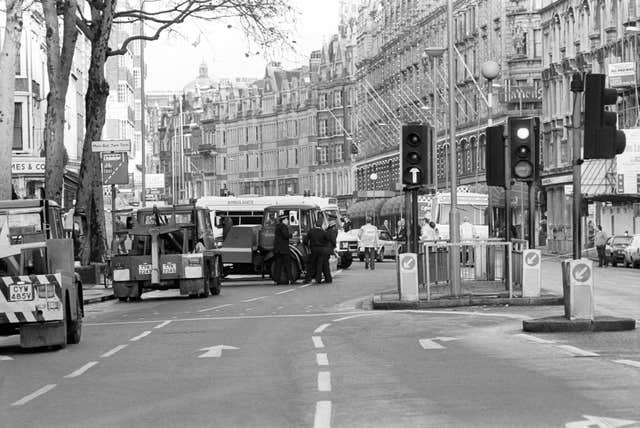 These included Harrods in 1983, a Remembrance Day ceremony in Enniskillen in 1987, Warrington in 1993, and London's Docklands in 1996.
The bereaved and injured are pressing for UK Government support in their campaign for compensation paid out of the large number of frozen assets seized from the toppled Gaddafi administration.
Jonathan Ganesh, president of the Docklands Victims' Association, said: "It is very sad and heartbreaking that those that have been left severely disabled and bereaved by Gaddafi Semtex are still waiting to be compensated.
"It is abhorrent, as Libyan government promised to help those that had been left severely disabled and bereaved."
While the US, France and Germany negotiated multimillion-pound settlements with Gaddafi for its citizens impacted by Libyan-sponsored terrorism, the previous Labour government in the UK has been heavily criticised for not striking a similar deal.
The current UK Government has said it considers compensation claims to be private matters and the Foreign Office facilitates victims to engage with Libyan authorities to pursue compensation.
It has rejected calls for a UK reparations fund for victims of Libyan-sponsored IRA attacks.