Britain's Got Talent winner Lost Voice Guy said it made his day to meet the Duke and Duchess of Sussex after making them laugh during the Royal Variety Performance.
The comedian, whose real name is Lee Ridley, has cerebral palsy and is unable to speak, but poked fun at his disability as well his talent show win during Monday night's charity gala at the London Palladium.
"Now that I've hit the big time, nothing will shut me up," he said in an electronic voice through a speech app on his tablet. "Unless there is a power cut."
He continued: "Your Royal Highnesses, what a truly incredible honour it has been … for you both to come face to face with me."
After the Royal Variety Performance, he said it was "amazing" to meet Harry and Meghan, recalling his chat with the duchess.
"She just congratulated me on my win and said how much she enjoyed my performance, which made my day," he said after typing his response.
Expectant mother Meghan also met veteran boyband Take That as she made her debut appearance at the star-studded annual event.
Her baby bump was on show as she graced the red carpet in a black-and-white sequinned Safiaaa gown before meeting the three remaining members of the group.
"I'm looking forward to seeing you closing the show," Meghan said before heading into the packed auditorium.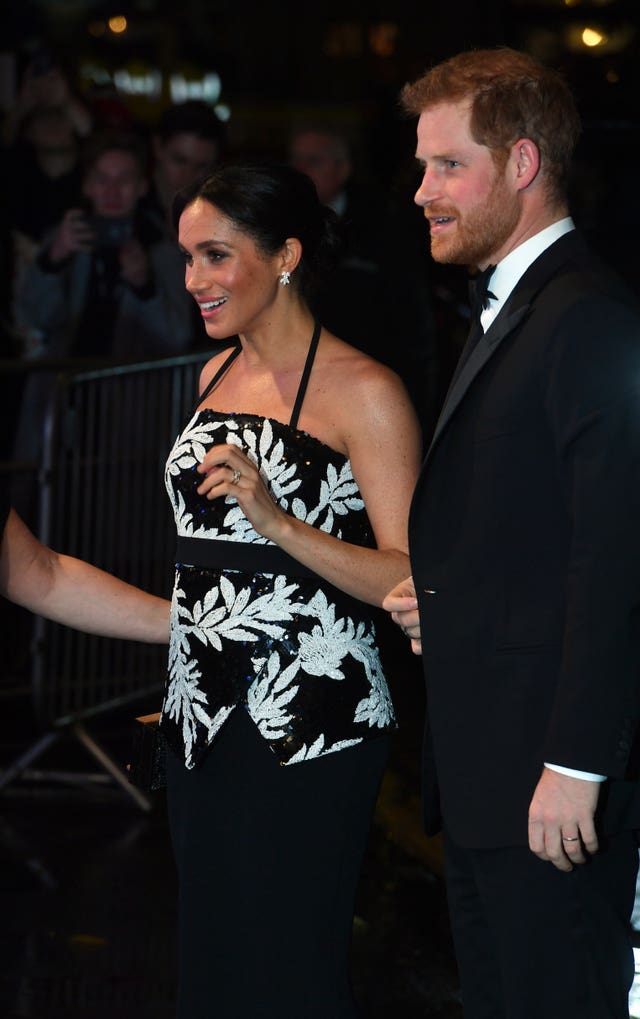 "What a lovely couple," the group's Howard Donald said after meeting Harry and Meghan.
"They said they were watching the hardcore fans putting their hands up during Never Forget. He said even he remembered it."
Other acts on the bill included George Ezra, who sung Shotgun, the cast of the musical Hamilton, and Italian opera singer Andrea Bocelli with his son Matteo.
Host Greg Davies, famed for his role in comedy series The Inbetweeners, poked fun at the age of the crowd during his opening.
"I'm a middle-aged man and I despise anyone under the age of 25. So to look out and see this sea of grey heads is an absolute delight," he joked.
Davies also greeted the duke and duchess and congratulated them on their "wonderful news".
"As I believe they say in royal circles, one is thrilled when two become three," he said.
On the red carpet Meghan was presented with a posy by seven-year-old Darcie-Rae Moyse, from Crowthorne in Berkshire.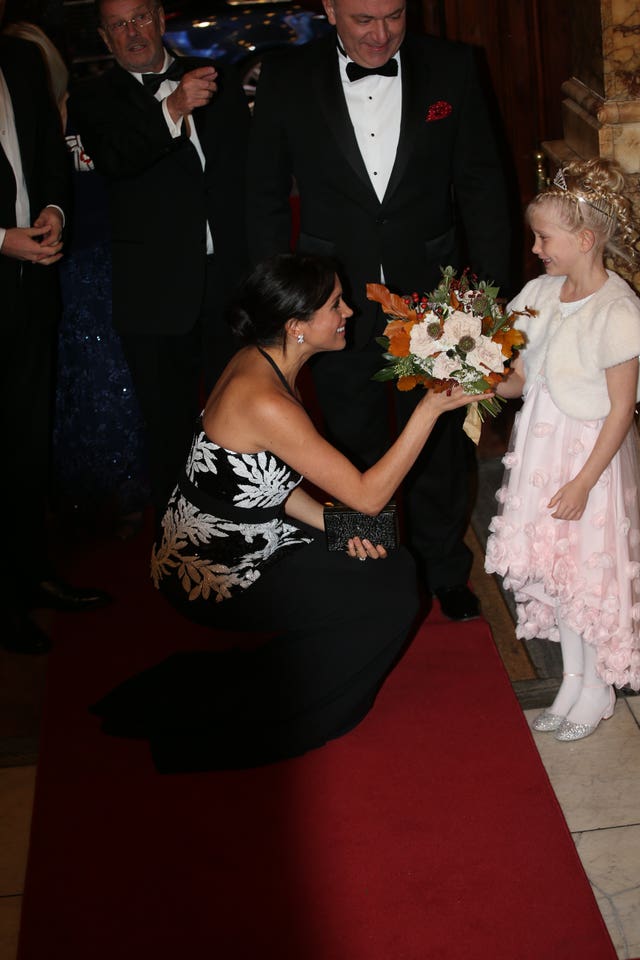 Royal Variety Charity chairman Giles Cooper said the posy was to mark Meghan's first visit to the gala, which he said had one of the best line-ups in recent years.
"It's a great mix of speciality performers, comedy and music," Mr Giles said.
The event raises money for the Royal Variety Charity, of which the Queen is patron, and in particular helps support the residents of Brinsworth House.
The troupe brought their human-operated elephants Queenie and Peanut, who Harry kissed on the trunk after the show.
"It was amazing," elephant handler Jessica Spalis said as Peanut reared up and honked his trunk.
"Peanut's happy too. He's naughty."
Norwegian pop star Sigrid, 22, gave an uplifting rendition of her hit Strangers, leaving the stage to dance in the aisle with fans.
It became an annual event at the suggestion of George V in 1921 and acts over the years included The Beatles in 1963, The Supremes in 1968 and the Blue Man Group in 2005.