The Duke of Cambridge has opened up about his own experiences of feeling "very sad and very down" while working for the air ambulance.
One particular incident "took him over the edge", he added.
Speaking about his time with the air ambulance, he said: "Talking was really important, but even that wasn't quite enough for one particular incident for me.
"I worked several times on very traumatic jobs involving children, and after I had my own children I think the relation between the job and the personal life was what really took me over the edge, and I started feeling things that I have never felt before, and I got very sad and very down about this particular family."
It is understood he was discussing an accident involving a child.
Talking to colleagues helped him to "come to terms with the enormous sadness" of what had happened, he added.
The duke was speaking at the inaugural This Can Happen conference at The O2 in London on Tuesday, which aims to address mental health issues in the workplace.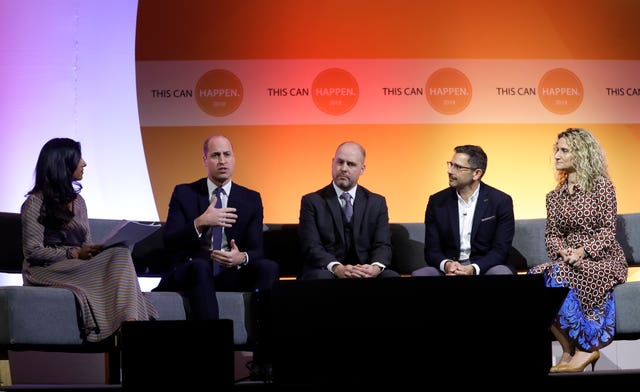 He urged employers to look after the mental health of workers.
While taking part in a panel discussion, William added: "We spend a vast amount of our time at work.
"There should be a much more open, supportive and compassionate working environment to deal with those sorts of problems.
"There's still a stigma about mental health. We are chipping away at it but that wall needs to be smashed down."
Workers need to feel they can speak to people in the HR department, he added.
He also spoke about the responsibility of looking after his own staff, who he said sometimes work "silly hours".
It is important they "keep an eye on the hours they work" and the commuting they do, he added.
William campaigns alongside the Duchess of Cambridge and the Duke of Sussex for mental health initiative Heads Together.