Adverts for Burger King and McDonald's have been banned after they were placed less than 100 metres from the gates of primary schools.
The McDonald's poster for the Cadbury Flake McFlurry was seen in July at a bus stop 47 metres from the boundary of a primary school.
A poster for Burger King's Whopper Jr £2.99 meal deal, also seen in July, featured an image of the whopper burger, fries and a zero sugar Coca-Cola and appeared at a bus stop 96 metres from a school.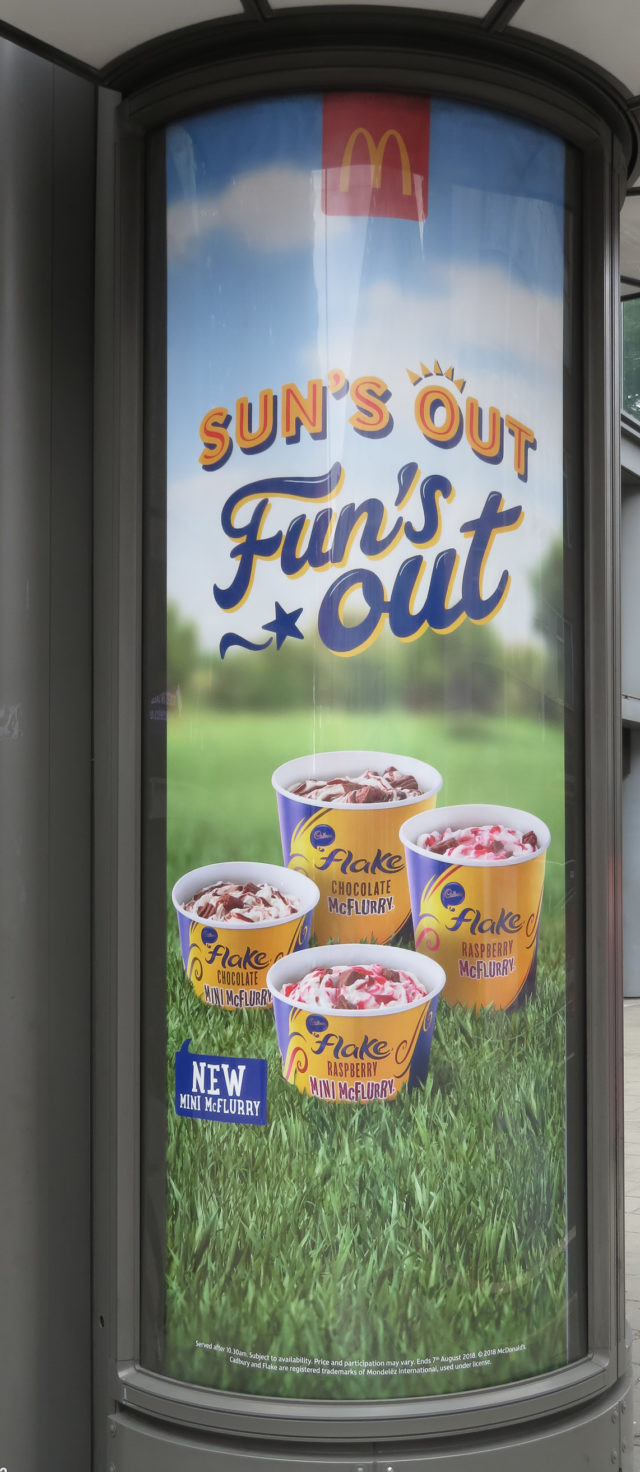 It said JCDecaux was "solely responsible" for the "oversight" but accepted it was "ultimately responsible for any misplacement of the ad".
JCDecaux said the Burger King ad had been incorrectly placed due to a "data conflict" in its booking system.
Banning both ads for being inappropriately targeted at children, the Advertising Standards Authority (ASA) told the companies "to ensure that they took measures in future to ensure that HFSS product ads were not directed at children under 16, including that they were not displayed in close proximity to a primary or secondary school".
McDonald's said: "On this occasion a mistake was made. We have shared our disappointment with JCDecaux who have apologised for the placement of the advert in question. It was removed as soon as we became aware of the mistake, and we have asked them to review procedures to ensure all possible precautions are taken to meet our voluntary standards."
Two more ads for HFSS products – a second McDonald's poster for its Belgian Chocolate Honeycomb Iced Frappe and a poster for Subway's Mega Melt sandwich – were not banned because they were placed within 100 metres of a nursery and children's centre rather than schools.
The ASA said nurseries and centres were generally attended by a smaller number of children than schools, which meant the audiences for the ads were unlikely to be significantly skewed towards under-16s.
In a separate ruling, the watchdog reversed its earlier decision banning a television ad for Kellogg's Coco Pops Granola that appeared in January between episodes of the Mr Bean cartoon, during programming specially dedicated to children.
The ASA had initially ruled that although it agreed with Kellogg's argument that the granola was not an HFSS product, the branding was synonymous with the original Coco Pops and therefore had the effect of promoting a high-sugar cereal.
However in its updated ruling released on Wednesday the ASA said it would be clear to adults and children that the advert was for Coco Pops Granola and concluded that it was therefore not subject to the restrictions prohibiting HFSS product ads from being shown around children's programming.
Caroline Cerny from the Obesity Health Alliance, which lodged the original Kellogg's complaint, said: "These adverts are designed specifically to appeal to children with fun cartoon characters including the well-known Coco the Monkey and catchy jingles.
"The original ruling recognised the power of brand advertising and closed a loophole preventing food companies from advertising to children by using characters and music associated with their unhealthy products.
"Following a lobbying effort from Kellogg's, the industry-funded regulator, the Advertising Standard Authority, has rowed back from their original decision.
"This is what happens when a large multinational food company uses its legal weight to fight rulings that influence their profits. Sadly the price is the future health of our children.
"This is just another example of why we need strong Government action to protect children from unhealthy food marketing, starting with a 9pm watershed on junk food adverts on TV."
A Kellogg's spokeswoman said: "We felt the original judgment had potential unintended consequences for the industry and the positive intent of the regulations – acting as a disincentive for food companies like us to develop and launch 'better for you' alternatives at a time when people are looking to our industry to take action."