A new memorial to victims of the Birmingham pub bombings has been unveiled exactly 44 years after the twin IRA attacks killed 21 people and left more than 200 injured.
Relatives of the victims were among around 250 people who gathered at the metal sculpture – depicting three trees with leaves bearing the names of those killed – to commemorate the anniversary of the blasts.
The memorial is sited close to the buildings which housed the Tavern in the Town and Mulberry Bush pubs, where bombs detonated 10 minutes apart on the night of November 21 1974.
A plaque on the memorial, on the plaza leading to the main entrance to Birmingham's New Street station, invites passers-by to "seek shade beneath these trees" and remember the victims.
"For the families and friends of the victims, the injured and the traumatised, the pain and loss of that tragic night remains in our hearts.
"This memorial stands as a testament to our grief, in the hope that the 21 will be ever rooted in this place; and as a symbol of peace and unity at the gateway of our city."
Speaking before a multi-faith service to unveil the memorial, its designer, local artist Anuradha Patel, said she hoped its prominent position would provide comfort to relatives and help inform future generations about the atrocities.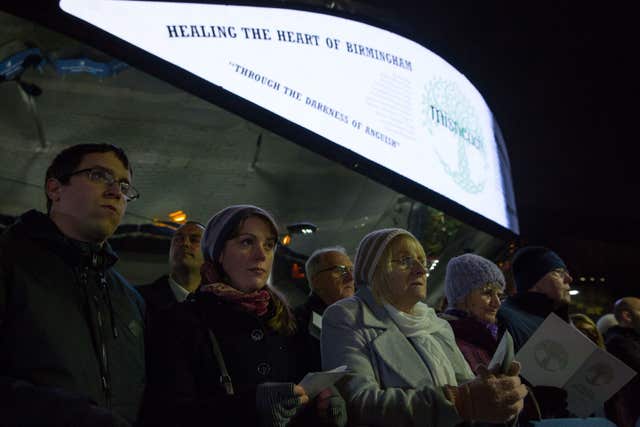 "As people come through into the city, it's the first thing they will see. It means a lot – it's a very significant piece of work and I am very honoured to have been involved in it."
The Justice4the21 campaign group, together with Network Rail and the Birmingham Irish Association, have worked together for more than three years to make the memorial a reality.
A minute's silence was observed at 8.17pm to mark the timing of the first explosion.
Speaking before the service, the chief executive of the city's Irish Association, Maurice Malone, said: "As a group incorporating the Irish community, the victims' families, the city, and the university, we wanted to create an inclusive and healing memorial which could reflect both the damage the pub bombings did to our city, and the hope we have for the future."