An alternative Brexit deal to Theresa May's draft EU withdrawal agreement is still a "very realistic" outcome, Scotland's Constitutional Relations Secretary has insisted.
Mike Russell said procedures could be followed, starting with MPs in the Commons voting down the current proposal, which could then result in a new deal being drawn up.
But he stressed for this to happen it was "absolutely essential" opposition parties at Westminster work together.
Efforts here have already started, with First Minister Nicola Sturgeon spending Tuesday in London, meeting the Labour leader Jeremy Corbyn and Vince Cable of the Liberal Democrats among others.
With doubts continuing over whether Mrs May can get her draft agreement through the House of Commons, Mr Russell argued MPs should not vote for the deal simply because they want the Brexit "ordeal to be over".
Instead he said: "The priority is to vote down this deal, not to allow the damage to take place."
He was questioned on the draft withdrawal deal by members of the Scottish Parliament's Constitution Committee, with the cabinet secretary apologising after a "joke misfired" during the session when he likened Tory Brexiteer Jacob Rees-Mogg to an alien invader.
On the question of the draft arrangements which have been drawn up by the Prime Minister, Mr Russell said these would "prolong uncertainty" for the UK.
A timescale of having the transition period completed by the end of 2022, as has been suggested by EU chief negotiator Michel Barnier, was "ambitious" he added.
Asked how realistic is was that a new deal could emerge, Mr Russell said: "It is very realistic indeed.
"It is in my view first of all essential to vote this deal down but also for the House of Commons to indicate that there can not be no deal. There is a procedure that would then allow 21 days for other proposals to be brought.
"The opposition parties, working with a sensible government – and it would be good to see that – the opposition parties working hopefully with government can devise other scenarios, and there is a range of scenarios.
"You could start with the sensible move of staying in the single market and customs as an EEA (European Economic Area) option and that's really a sensible thing to do.
"But there are other options and we are neither ruling them in nor out, you could have an election, you could have a People's Vote and there would be discussions about other possibilities."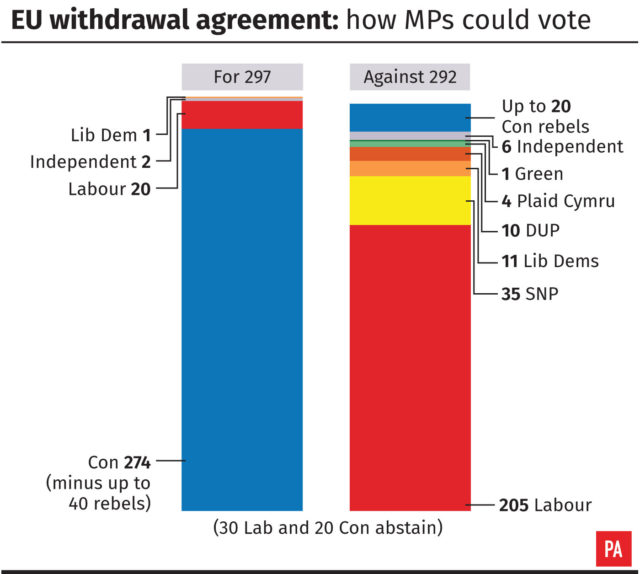 "So if we were to find ourselves in a position of accepting this deal because we wanted this ordeal to be over, we would be making a profound mistake with really damaging consequences, not just for ourselves but for those who come after us.
"What we shouldn't be dragooned into thinking is either we accept the deal or chaos ensures, that is not the case, we shouldn't allow that to be the case and it doesn't have to be the case.
"But working cross party is now absolutely essential in that regard and I'm glad that work is underway, the First Minister met Jeremy Corbyn and some of his colleagues yesterday, met Vince Cable, met the leaders of Plaid and the Greens yesterday and those meetings will continue."