Health teams working in the community are to get a multi-billion funding boost in a bid to prevent unnecessary hospital admissions, the Prime Minister has announced.
Theresa May pledged £3.5 billion a year in new real-terms funding for primary and community healthcare by 2023/24 as part of the forthcoming NHS long-term plan.
It is hoped the boost will mean that more patients are treated at home and in the community rather than being admitted to hospital.
Mrs May said that leaving the EU means that Britain will no longer be sending "vast sums" of money to Brussels and will instead have more money for "domestic priorities like our NHS".
Downing Street said the money represents an "historic commitment" to ensure that a growing share of NHS spending is put into primary and community care.
Part of the money will be spent on community-based rapid response teams. These 24/7 teams – made up of doctors, nurses and physiotherapists – can provide urgent care in the community as an alternative to hospital.
As well as emergency care, these teams can also help patients recover closer to home.
Meanwhile, there will be a national rollout of an initiative which sees dedicated support for care-home residents.
A successful pilot into the scheme saw healthcare workers, including GPs, assigned to care homes where they get to know individual residents' needs and provided tailored treatment and support.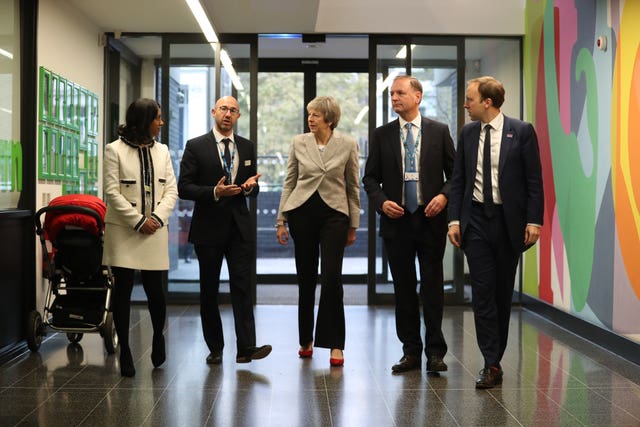 "Many of us might assume that hospital is the safest place to be – but in reality many patients would be much better-off being cared for in the community.
"The longer a patient stays in hospital, the more it costs the NHS and the more pressure is put on its hardworking staff. This needs to change.
"That's why I'm announcing a major boost in funding for community healthcare, which will give more patients a genuine and high-quality alternative to hospital.
"The new approach we're setting out today will mean more people can leave hospital quicker or avoid being admitted in the first place – which is better for patients and better for the health service.
"Leaving the EU means taking back control of our money as we will no longer be sending vast sums to Brussels.
"This helps our public finances and means we have more money to spend on domestic priorities like our NHS. And we've been able to fully fund this historic commitment without raising taxes."
Health Secretary Matt Hancock added: "GPs are the bedrock of the NHS.
"To make the NHS sustainable for the long term we need more prevention as well as cure. So we will back our GPs, primary and community healthcare to help keep people healthy and out of hospital in the first place.
"Every patient deserves to receive care tailored to their needs. Yet too often our hospitals become the only place to turn for older people, often to the detriment of their health – but no longer."
Simon Stevens, chief executive of NHS England, said: "Everyone can see that to future-proof the NHS we need to radically redesign how primary and community health services work together.
"For community health services this means quick response to help people who don't need to be in hospital, as well as dissolving the 70-year-old boundary between GP practices and community nursing.
"But to will the end is to will the means. That's why – as part of the NHS long-term plan – for the first time we're going to guarantee that these services get a growing share of the growing NHS budget."
Commenting on the announcement, Professor Helen Stokes-Lampard, chairwoman of the Royal College of GPs, said: "Any investment in patient care in the community is welcome – and it's essential that general practice, specifically, is at the heart of these plans and a key recipient of this new funding.
"The Prime Minister's announcement demonstrates recognition at the highest levels that a strong general practice service is central to the long-term sustainability of the NHS and patient care.
"It is an important step forward to meeting our calls for our service to receive 11% of the overall NHS England budget as part of the forthcoming NHS long-term plan."