Boris Johnson was paid almost £100,000 to deliver a two-hour speech to a hedge fund in New York earlier this month.
The former foreign secretary earned more than his annual salary as an MP for the engagement, which was paid for by GoldenTree Asset Management.
It was revealed in the latest update to the Register of Members' Interests, in which Parliamentarians have to declare all outside work.
Mr Johnson's most recent entry says he was paid £94,508 for the speech at the investment firm's office in America on November 2. Travel and accommodation was also provided.
The wages per year for an MP as of April 2018 are £77,379.
This payment comes on top of the £23,000 he receives every month to write a weekly newspaper column.
The register shows he also received almost £9,500 in book royalties in the past two months, to add to a total of £18,000 he has already been paid by publishers during 2018.
Mr Johnson was also paid £2,000 for another column in a different paper, which helped his total earnings outside Parliament for 2018 reach around £244,000.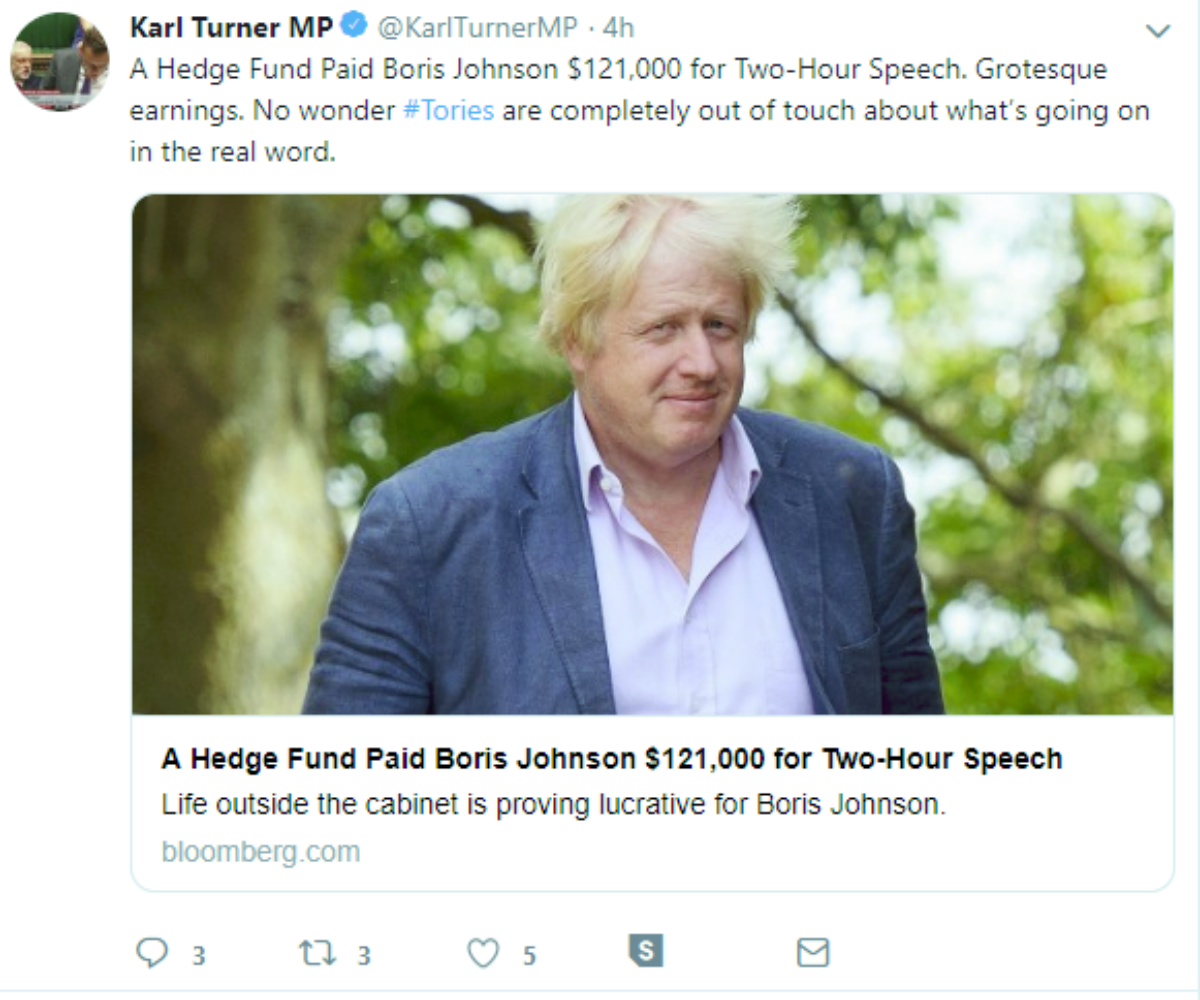 "No wonder Tories are completely out of touch about what's going on in the real word."
Asked if he could himself turn down such a large fee for a speech, he replied: "Second jobbing should be banned. If you're an MP it should be full time."
And when another user pointed out some MPs who are doctors keep on practising, the member for Hull East added: "If a doctor wants to help out in their local A&E, in their own time, then I absolutely commend them for that.
"Boris isn't doing that though. He's raking fortunes in when he's supposed to be working as MP."
A spokesman for Mr Johnson declined to comment.
Earlier today, it was revealed Mr Johnson faces a private prosecution over his famous claim – plastered over a Vote Leave bus during the EU referendum – that the UK sends £350 million a week to Brussels.
Private prosecutor Marcus Ball said he notified the MP for Uxbridge, one of the most prominent pro-Brexit campaigners, on Saturday of his intention to bring a court case over alleged misconduct in public office.
Backed by around £300,000 raised through crowdfunding appeals, and with the support of a team of lawyers, he now intends to lay an information at a magistrates court early in the new year.
It is understood magistrates would then have to determine whether to allow the case to go ahead.