Theresa May is lining up Scotland's fishing sector to be used as a "bargaining chip" in negotiations with Europe post-Brexit, First Minister Nicola Sturgeon was warned.
The SNP leader accused the UK Government of preparing for "another Tory sell out of Scottish fishermen" after a political declaration on post-Brexit relations was agreed with Brussels.
Mrs May has insisted the agreement reached is "the right plan for the UK" which will set the country on course for a brighter future.
But Ms Sturgeon argued it included "lots of unicorns taking the place of facts about the future relationship".
She claimed the agreement left "difficult issues unresolved" and would lead to a "blindfold Brexit", which could see Britain leave the European Union without knowing the full details of their future relationship will look like.
With David Mundell having threatened to quit the Cabinet if the UK remains tied to Europe's Common Fisheries Policy (CFP) after the end of the Brexit transition period, Ms Sturgeon said the Scottish Secretary would "have forfeited forever any last remaining scrap of principle or credibility that he had" if remained in his post.
Scottish Tory MP Ross Thomson branded the political declaration "unacceptable", as he said the UK "must be a normal independent coastal state like Norway".
He tweeted the "political declaration commits UK to "establish a new fisheries agreement on, inter allia, access to waters and quota shares" and added: "This means sovereignty over our waters sacrificed for a trade deal."
But Mr Mundell said he was "not taking lessons on standing up for fisherman from Nicola Sturgeon", saying SNP policy would keep the sector within the CFP.
Meanwhile the UK Government stressed the declaration text "states explicitly that the UK will be an independent coastal state".
However Ms Sturgeon mounted her attack at First Minister Questions, saying: "The political declaration that has been agreed between he UK Government and the European Commission this morning represents another Tory sell out of Scottish fisher men.
"What we see is that the Scottish fishing industry will be used as a bargaining chip in wider trade talks."
She recalled last week all 13 Scottish Tory MPs sent a letter to Mrs May, making clear that after Brexit the UK "must be able to negotiate access and quota shares on an annual basis without any pre-existing arrangement being in force" and "this means that access and quota shares can not be included in the future economic partnership".
But she said paragraph 75 of the declaration stated: "Within the context of the overall economic partnership the parties should establish a new fisheries agreement on access to waters and quota share."
She added: "There is no mention of annual negotiations, which I happen to know the UK Government was trying to secure and they failed.
"In terms of David Mundell's position I would simply say this – his position is a matter for him but if David Mundell is still in office by the end of today in light of this political declaration he will have forfeited forever any last remaining scrap of principle or credibility that he had."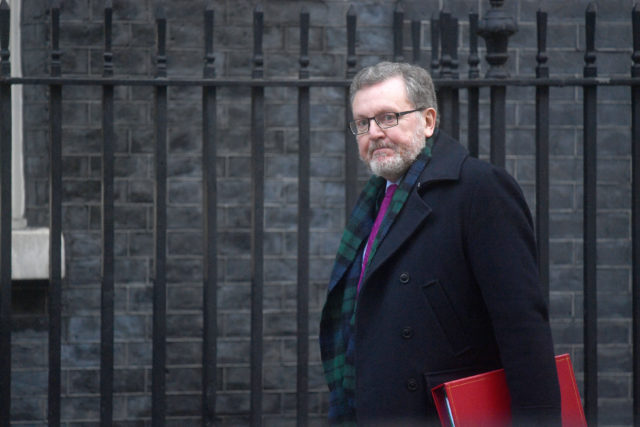 But the Scottish Secretary insisted the political declaration was a "good deal" for the fishing industry, which would allow the UK to become an independent coastal state and leave the "hated" CFP.
Speaking during a visit to an Edinburgh school, he said Britain would be "able to negotiate its own agreement on access and quotas with the EU just as Iceland and Norway do at the moment".
The Tory MP added: "There will be no pre-existing arrangements in the political declaration.
"Quotas and access will be discussed but there will be no predetermined arrangements as to what those quotas and access will be. It will be decided annually."
He said those negotiations would be tough but Mrs May had "stood steadfastedly by fishing interests" and future talks would be equally robust.
Questioned on the First Minister's call for him to resign, he said: "Nicola Sturgeon's position is to create as much chaos and division in this country as she possibly can because she feels that that's best backdrop for her independence referendum agenda.
"She revels in the soap opera of resignations and division over Brexit, that's why she's proposing a no-deal Brexit so I'm not going to take any notice of her calls in that regard because I remain committed to my overriding objective."
Bertie Armstrong, chief executive of the Scottish Fishermen's Federation, said: "The declaration gives the UK the power to assert its position as an independent coastal state with practical sovereignty over our waters and natural resources.
"However we know that several EU nations will not give up their attempts to link access with trade in order to retain absolute rights to fish around our coastline.
"So we will continue to seek assurances from the UK Government that it will remain steadfast. We will not rest until the future arrangements are signed, sealed and delivered and we secure this critical control over access to our waters and who catches what stocks, where and when."