The vandalism of a sculpture erected in Dublin to mark the Armistice centenary has been branded an "embarrassment" to Ireland.
The solicitor who spearheaded efforts to bring the Haunting Soldier artwork to the city said the attack would prove counterproductive, predicting even more people would go to pay their respects.
Red paint was thrown over the six metre-high sculpture in St Stephen's Green at around 2am on Thursday. Irish gardai are investigating.
The laurel wreath was in tribute to the first captain of the All Blacks, Dave Gallaher. Donegal-born Gallaher was killed in action at Ypres in 1917.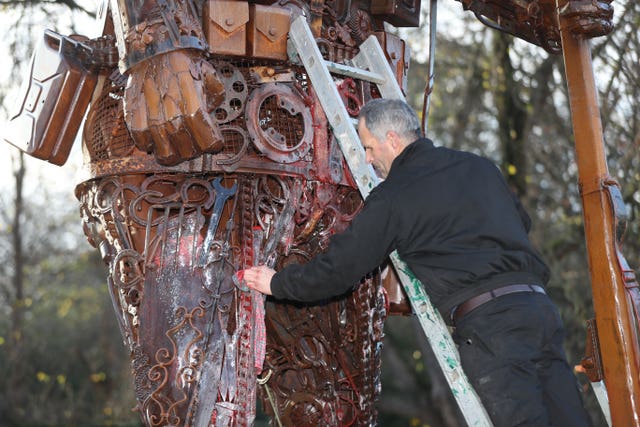 Soldiers once shunned by the state for fighting for British forces in the years just before Irish independence have been afforded greater recognition in the peace process era.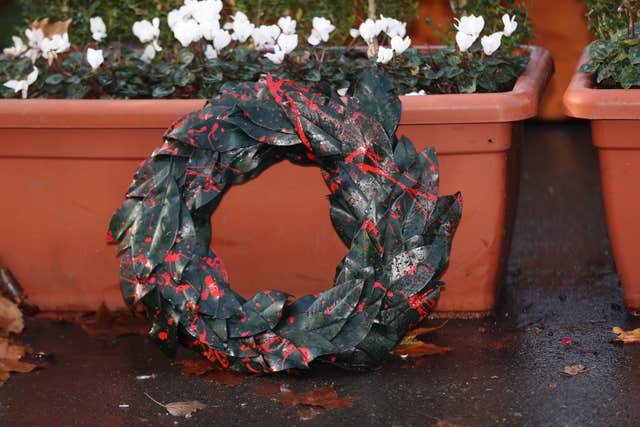 "This does not reflect who we are or what we have become and whoever did this is an embarrassment to us," she told the Press Association.
"This was given to us on loan as a gift and they just simply didn't seem to appreciate that or even care.
"If I had my time to do it again, I would do it all over again. I'm not going to be dictated to by these people who did this.
"The people of Ireland have responded in their thousands coming to see it every day."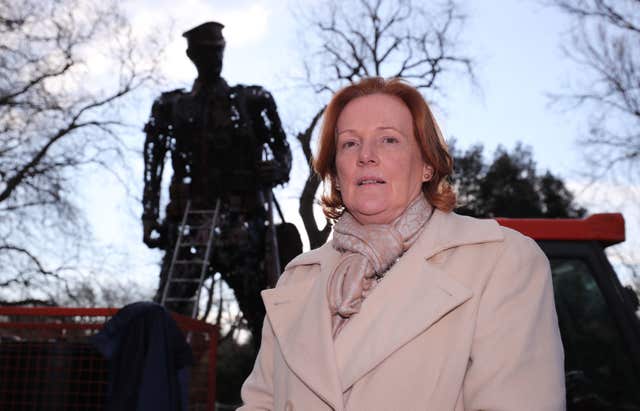 The artwork portrays a weary soldier returning from war.
Designed by Dorset-based artist and blacksmith Martin Galbavy, it is made from scraps of metal including horse shoes, spanners, car jacks and brake discs.
It has been loaned to Ireland and its final day in Dublin is Monday.
Ms Purcell expressed anger that the All Blacks wreath had been damaged.
"It's very, very disrespectful," she said. "But we are keeping it as a symbol, because it's not who we are."
The solicitor hailed the repair work carried out by the Office of Public Works (OPW) on Thursday morning.
"The OPW have done a marvellous job, they have more or less got it all back to how it was," she said. "It's marvellous what they have done. It's spectacular and it'll be here until Monday."
She added: "I am so honoured by the respect shown to it by the public that what this person did is just a nothing, because the respect and support and response has been phenomenal, and there'll be even more visitors now, turning an horrendous negative into an absolute positive. So it's been totally counterproductive."
Irish Culture Minister Josepha Madigan voiced disappointment about the attack.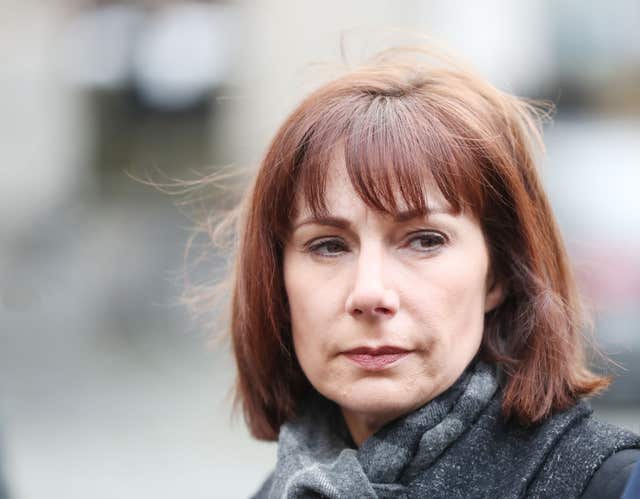 "It is incredibly moving and has been proved immensely popular. There is no bravery in throwing paint at a statue in the middle of the night."
The Haunting Soldier is designed to evoke the fragility and suffering of those who survived the war and returned home to an uncertain and difficult future.
The ghostly figure was constructed by Chris Hannam of Dorset Forge and Fabrication.