A chalk drawing by 19th century artist Dante Gabriel Rossetti which was bought from a second-hand bookshop for £75 is to go on display at Cambridge's Fitzwilliam Museum.
The artwork, called Ricorditi Di Me, Che Son La Pia (from Dante's Purgatorio), has not been exhibited in public in 150 years.
Rossetti featured the model Alexa Wilding, whom he first met in the street, in the 1868 study for a painting he completed in 1881.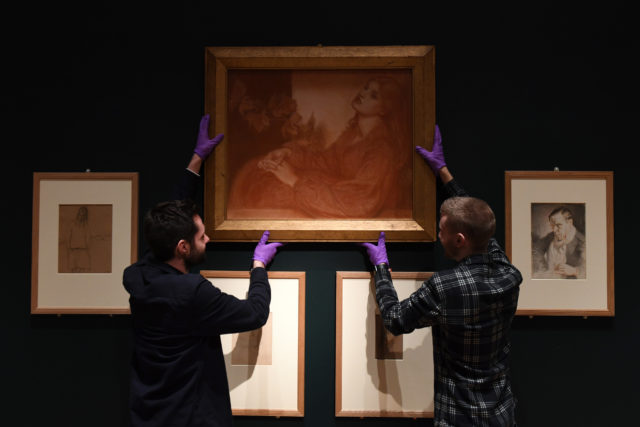 The drawing, bought by Sir Ivor Batchelor, is part of the Sir Ivor and Lady Batchelor Bequest, made to the Fitzwilliam in 2015, with highlights of the collection to be displayed from December 4.
Henrietta Ward, assistant keeper for paintings, drawings and prints, said: "The fact that he found it in the bookshop was quite a fluke."
Sir Ivor wrote in an essay: "It was in the tiny second-hand bookshop of Robert Aitken in Bruntsfield, Edinburgh, in the years immediately after World War Two that I found drawings and prints which were within our miniscule budget and which were often of real quality.
"Aitken was a dealer of exceptional knowledge and discrimination.
"It was a red letter day in 1956 when off the floor in Aitken's shop, with a windfall of royalties from a book, we bought for £75 Rossetti's very fine and very large drawing for La Pia."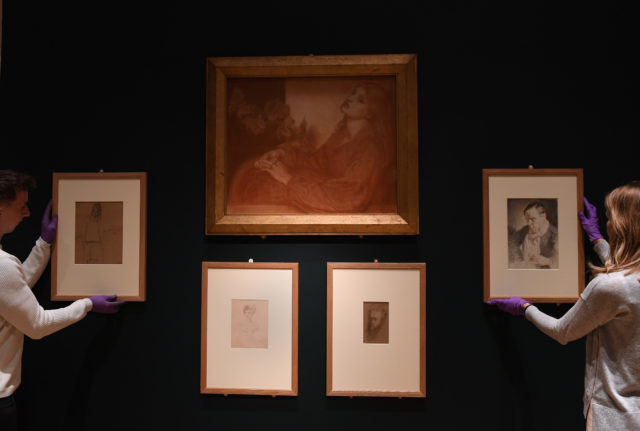 It read "This drawing not being 'set' it will require the greatest care if ever removed from its frame", and was followed by Rossetti's address.
"It's quite nice that he put that little warning note," said Ms Ward.
She said Rossetti was "quite famous for his use of models, he had very obsessive relationships with his models".
He had an affair with Jane Morris and "absolutely loved her", Ms Ward said, and had been "obsessed" with Wilding's "bright auburn hair and her beautiful face".
The exhibition, called Collecting And Giving: Highlights From The Sir Ivor And Lady Batchelor Bequest, features 86 objects from the overall collection of 461 items including drawings, bronzes, glass and pieces of English pottery.
Also in the display is a 26.7in (68cm) bronze statue of Perseus by Sir Alfred Gilbert, who famously sculpted Eros in Piccadilly Circus.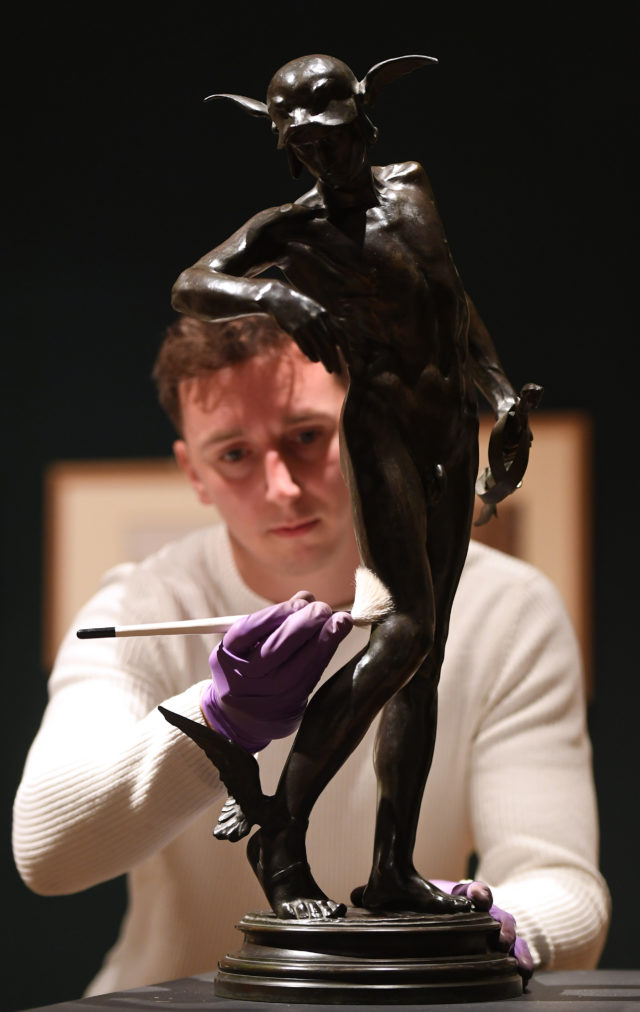 Sir Ivor Batchelor, who was Professor of Psychiatry at Dundee University from 1967 to 1982, died in 2005 aged 88.
Lady Batchelor died in 2014.
The couple first made contact with the Fitzwilliam Museum in 1990 and generously donated objects from their collection over the following decade.
This will be the first time items from the Batchelor bequest are exhibited together, and they will be displayed at the Fitzwilliam Museum from December 4 2018 to March 3 2019.