A prominent Northern Ireland business leader has insisted the sector is "nobody's puppets".
Retail NI chief executive Glyn Roberts made the comment after Democratic Unionist MP Sammy Wilson accused the businesses which backed the withdrawal deal of being "the puppets of the Northern Ireland Office".
Mr Roberts was part of a delegation of business leaders which met DUP leader Arlene Foster and MEP Diane Dodds at Stormont on Monday.
Northern Ireland Retail Consortium director Aodhan Connolly said it had been a "very congenial meeting".
"The fact is we have worked with the DUP over many years, we'll work with them during Brexit and we'll work with them after," he said.
"It was a good chance for us to air our concerns and hear their concerns as well. All in all, quite a productive meeting."
Asked directly whether Mrs Foster had apologised for Mr Wilson's comment, Angela Magowan, of CBI NI, said: "She did say that things get said in the heat of the moment, and not to be taking them too seriously.
"We haven't taken that comment too seriously, so I think we'll all just try to put that to bed and move forward."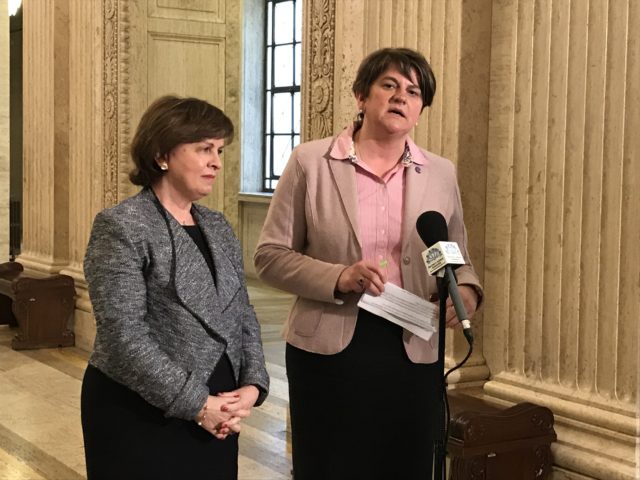 Mr Roberts added: "I think it is safe to say we are nobody's puppets, it's our members that make the decisions on all these vital issues, we have our own policy perspective."
Mrs Foster accused the media of trying to "drive a wedge" over Brexit.
"What we talked about was the fact that the media have been trying to put a wedge between the political party and the business community; what we need to do is to have a very good working relationship.
"We might differ on different areas of policy but the one thing for sure is that we both care passionately about Northern Ireland and about the economic future of Northern Ireland, and so we are going to continue to have that dialogue in the future," she said.
Mrs Foster added: "Businesses want certainty, therefore should not waste the next few weeks in advance of the Meaningful Vote, especially when many parliamentarians have already made up their minds to reject the deal.
"We should use this time to work on getting a better deal which works for the UK and Northern Ireland."