Norwegian Magnus Carlsen has won the World Chess Championship for the fourth straight time, dominating American challenger Fabiano Caruana in a tie-breaker in London.
Carlsen, 27, and Caruana, 26, spent three weeks in November in a stalemate with a record streak of 12 draws as they battled for the sport's biggest title.
But the deadlock was broken on Wednesday when the two grandmasters locked horns in a best-of-four series of rapid games.
For each of these games the players had only 25 minutes to make all of their moves.
Top-ranked Carlsen showed why he is renowned for his speed chess and end game prowess to dominate the tie-breaker, winning three in a row on the 13th day of play.
He will take home 55% of the cash prize pool, which is a million euros (£880,000), while Caruana receives the rest.
Carlsen pumped his fist after winning the first rapid game, heaping pressure on Caruana, who played aggressively in the second game but came undone.
The Norwegian world number one went on to win the second and third games, meaning a fourth rapid game or faster blitz games were not needed.
Thousands of chess fans followed the action online on live-streaming site Twitch TV and the event was also trending on social media platform Twitter.
Carlsen, known as the Mozart Of Chess, has held the title since 2013 and it was his fourth straight championship win.
Carlsen was thrilled with the win, which means he will hold the world title until at least 2020.
"I'm very happy. I felt like I had a really good day at work today," he said, prompting laughs from the room filled with global chess journalists.
A disappointed Caruana said he did not produce his best when it mattered.
"I don't think I can be too upset about the classical portion but it came down to today," he said.
"I was hoping to play my best chess today but I didn't even come close to that."
The players showed great respect and admiration for each other after the match.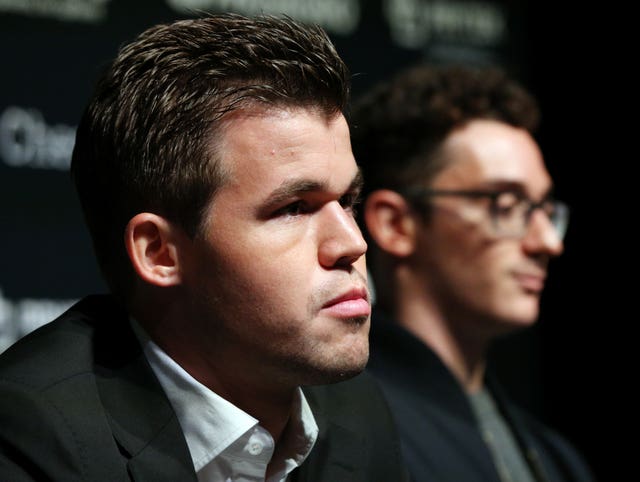 "Fabiano was the strongest opponent I've played so far in the world championships."
"In classical chess he has just as much right to call himself the best in the world."
Caruana added: "It's a great privilege to play with Magnus and it's a great learning experience."
Second-ranked Caruana came into the series in top form and displayed his aggressive style and meticulous preparation in the classical games.
It was in contrast to Carlsen who endured a recent slump but recaptured form in London, matching Caruana in the classical format.
"Frankly speaking, the last couple of years my game hasn't been great," Carlsen said.
"In that sense the classical portion of this match was a step in the right direction."