Scots will not allow Theresa May to "rob them of their rights as EU citizens", the SNP has said.
The party's Westminster leader Ian Blackford blasted the Prime Minister's Brexit deal in the Commons, telling MPs it would "leave people poorer than the status quo".
Mrs May had to battle against cries of "it will" and "just say yes" as she tried to explain how her deal was the "best" for the UK.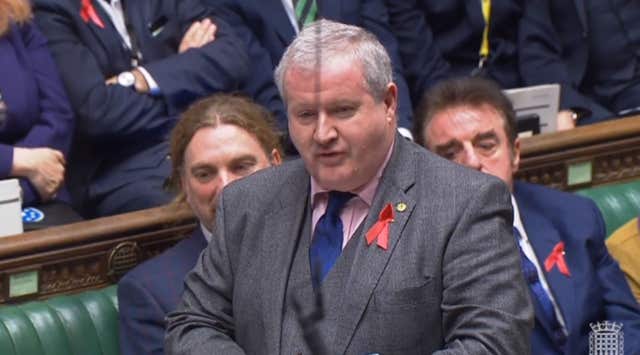 "The Prime Minister wants to take us back to the days of Thatcher and a belief that unemployment is a price worth paying, that's the reality.
"No government should choose to weaken its economy and make its citizens poorer, that's what the Prime Minister is doing.
"People in Scotland voted overwhelming to Remain, we voted for our rights to be respected and we are not prepared to give up those rights.
"The Prime Minister must explain to the people of Scotland why her deal will rob them of their rights as EU citizens."
Mrs May responded: "What the analysis shows is that this is a strong economy that will continue to grow and that the model which actually delivers best on delivering for the vote of the British people and for our jobs and our economy is the model that the Government has put forward."
She added: "He talks about what the people of Scotland voted for, they voted to stay in the United Kingdom and they voted for 13 Conservative MPs."