A Welsh politician sacked over "bombshell" sex claims told his chauffeur, "it's my own fault," and made a cut-throat gesture days before he hanged himself, an inquest heard.
Welsh Assembly Member Carl Sargeant was being driven back to the train station in Cardiff after a brief meeting with First Minister Carwyn Jones, who sacked him from his job as cabinet secretary for communities and children after sexual misconduct claims from three women.
The father-of-two, aged 49, was found hanged at his home in Connah's Quay, North Wales, four days later on November 7 last year.
Calvin Williams, a driver for Welsh government ministers, told the fourth day of the inquest into Mr Sargeant's death at Ruthin County Hall about the drive back to the station minutes after the meeting.
Mr Williams told the hearing: "I thought I was taking him to the railway station. But I asked him, 'All OK?'"
"He said, 'No.' He made a throat-cut gesture."
Seconds later after a phone call, Mr Sargeant asked Mr Williams to drop him off at the Hilton Hotel instead.
After they arrived at the hotel, Mr Williams asked the politician if he was "pulling my leg" about being sacked by Mr Jones.
Mr Williams said: "He said, 'No. I'm gone.' I said, 'Why would he do that?'
Mr Sargeant replied: "It's OK. It's complicated. It's my own fault. I have brought it on myself."
Mr Williams then shook the politician's hand as they parted and asked him if he was going to be OK.
Mr Sargeant replied: "Yes. Just need some time to myself."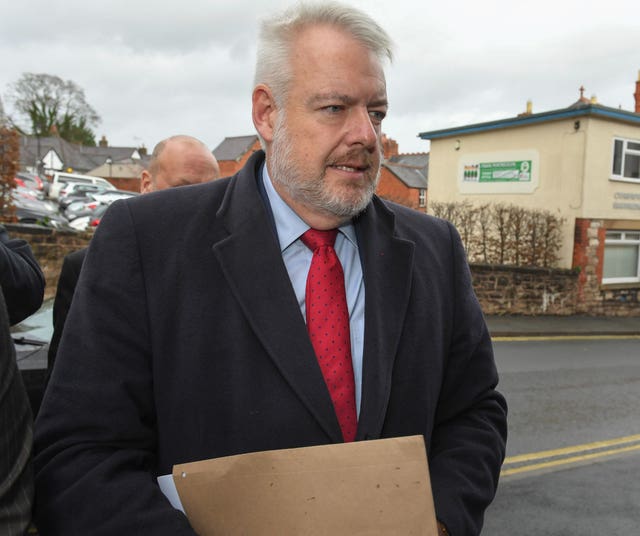 Mr Jones decided to sack Mr Sargeant once a written complaint had been made on November 1, during a planned government reshuffle.
Mr Sargeant was not approached to give his side or be told who was making the claims or what they were claiming before he was sacked and suspended by the Labour Party.
The First Minister said it would have been wrong to tell him the details of allegations against him as the complainants had been assured of their anonymity.
He told the court he had not been aware Mr Sargeant suffered from depression, and the Assembly Member did not give an "outright denial" when told the reason for his sacking.
Mr Sargeant was told not to "go public" with the reasons for losing his job in the reshuffle, but within hours had begun tweeting about it.
The inquest has also heard how, in a text message exchange between the leader of Flintshire County Council Aaron Shotton and his deputy Bernie Attridge, Mr Attridge suggested Mr Sargeant would be "shitting bricks" as sex allegations arising from the MeToo movement were engulfing some politicians in Westminster.
Leslie Thomas QC, representing Mr Sargeant's family, has raised questions with witnesses about the "pastoral care" given to the politician, given that he had suffered from depression, the allegations were not put to him to respond to, and his sacking came as a "bombshell" to him.
General secretary of Welsh Labour Louise Magee later told the inquest Mr Sargeant had been "calm" but "frustrated" when she spoke to him on November 3 after he was removed from the cabinet.
Ms Magee said she was told three women had come forward to report "unwelcome attention and inappropriate touching and groping" by Mr Sargeant.
Speaking via videolink, she said she spoke to him over the phone after he had been dismissed, but before he had been suspended from the Labour Party.
She said: "He was calm. He was quite polite.
"He sounded frustrated, and frustrated that he didn't know what was going on, that he hadn't been told yet if he was being suspended or not and he didn't know who the people were who had made complaints against him."
She added: "He didn't sound worried. He sounded frustrated, keen to get information."