Japan's prime minister has issued an appeal to Theresa May to prevent a no-deal Brexit.
Shinzo Abe's plea, delivered as the pair met at the G20 summit in Argentina, follows warnings from Japanese companies with operations in the UK of the additional costs and bureaucracy they would face if Britain withdraws from the EU without a deal.
Honda has warned a no-deal Brexit would cost it tens of millions of pounds in additional tariffs and would damage the competitiveness of its Swindon plant.
And Nissan, which employs 7,000 at Britain's biggest car factory in Sunderland, has said that a sudden change to World Trade Organisation rules would have "serious implications for British industry".
Car manufacturers are particularly exposed to any disruption to trade because of their "just-in-time" supply chains constantly moving parts around Europe.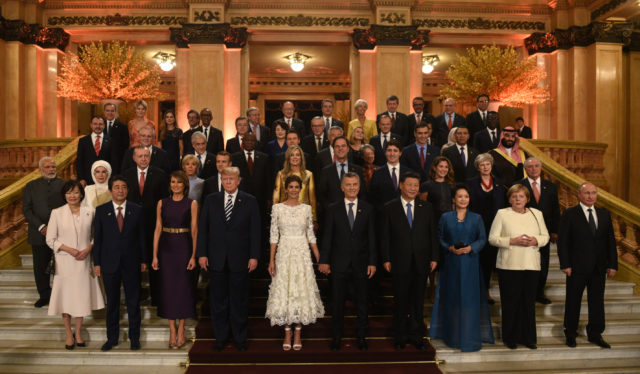 "Also I would like to once again ask for your support to avoid no deal, as well as to ensure transparency, predictability as well as legal stability in the Brexit process."
Mrs May assured him that the agreement she sealed in Brussels a week ago was "a good deal for businesses in the UK, including the many Japanese companies who have made significant investment into the UK and who will be able to continue on the basis of our deal to trade well with the European Union from the UK".
The pair reaffirmed their commitment to work quickly to establish a new economic partnership based on the free trade deal recently completed between the EU and Japan.
Mrs May said she was looking forward to being able to discuss UK entry into the Comprehensive and Progressive Agreement for Trans-Pacific Partnership (CPTPP) trade grouping of which Japan is a part.
Trade was top of the agenda for the Prime Minister's talks on the second day of the annual summit of major economies, as she met leaders of some of the countries with which the UK hopes to strike deals following Brexit.
Meeting with Australian Prime Minister Scott Morrison, she welcomed work which is under way to lay the foundations for what Downing Street described as an "ambitious" post-Brexit free trade agreement.
Mr Morrison, who took office in August following the resignation of Mrs May's university friend Malcolm Turnbull, said that the Prime Minister had shown "great resilience and great determination on one of the most vexed issues I think there is".
He praised her "determination to do that in typical British fashion with clear sight of the end goal and to bring some stability on what is a very difficult issue for you and your colleagues", adding: "I think you know you have our strong support in continuing to bring it to a good resolution."
Mrs May was also meeting Canadian PM Justin Trudeau and Chilean president Sebastian Pinera.
A later meeting with Turkish president Recep Tayyip Erdogan is expected to focus on Ankara's investigation into the death of journalist Jamal Khashoggi at Saudi Arabia's consulate in Istanbul in October.
On Friday, Mrs May delivered a "robust" message to Saudi Crown Prince Mohammed bin Salman that the UK expected his country to co-operate fully with the Turkish probe and to conduct its own investigation in a "credible and transparent" way.
British officials said trade was not on the agenda for the talks with the Saudi heir apparent, known as MBS.
Mrs May shook hands with the Saudi prince, who was also berated by French president Emmanuel Macron in a terse conversation captured on video.
In the brief clip, shared widely on social media, the crown prince was seen telling the French president not to worry.
Mr Macron responded: "I am worried… You never listen to me", with Mr bin Salman replying: "I will listen, of course." It concluded with Mr Macron saying: "I am a man of my word."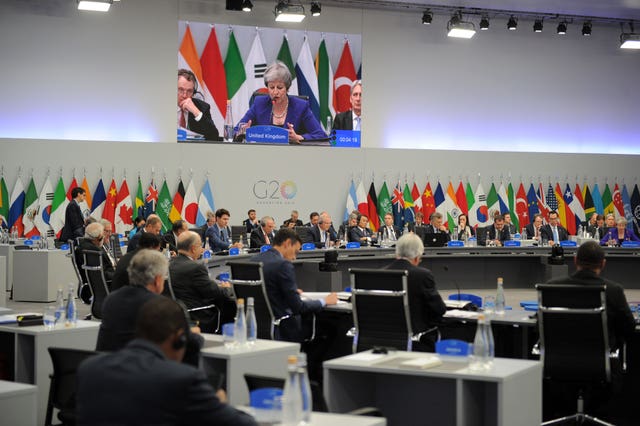 The spokesman said that Mrs May also set out the "urgent need" to bring an end to the conflict in Yemen and bring relief to millions threatened by famine, urging Saudi Arabia to engage in international talks next week in Stockholm.
On Friday evening, the leaders enjoyed a cultural event featuring 84 dancers and 75 musicians at Buenos Aires' historic Colon Theatre.
They dined on Fuegian spider crab, avocado and almond brittle roll, followed by Argentine tenderloin beef, artichoke, morels and smoked creme fraiche with a dessert of berries from southern Argentina.