Theresa May is holding talks with leaders of some of Britain's top targets for trade deals after Brexit.
The Prime Minister was using the opportunity of the G20 summit of major economies in Argentina to hold face-to-face talks with her counterparts from Australia, Canada, Japan, Chile and Turkey.
Trade has topped Mrs May's agenda for the two-day gathering, as she sought to push her global Britain message of new opportunities, which she believes will be opened by the UK's withdrawal from the EU.
The exception has been a bilateral meeting with Saudi Crown Prince Mohammed bin Salman, where the PM delivered a "robust" message over the death of journalist Jamal Khashoggi and the need for Riyadh to engage in talks in Stockholm next week on ending the war in Yemen.
British officials said trade was not on the agenda in the talks with the Saudi heir apparent, known as MBS.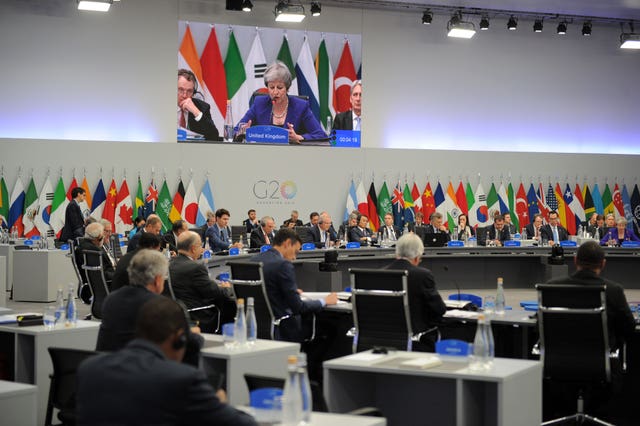 "Noting the steps taken by the Saudi investigation since the Foreign Secretary had met with the crown prince and King Salman on November 12, she encouraged the crown prince to ensure that Saudi Arabia co-operated fully with the Turkish authorities and worked to bring both investigations to an acceptable close.
"To ensure full accountability, there needed to be full transparency about exactly what had happened and who was responsible, in line with the commitments made by King Salman when she spoke to him on October 24."
On Yemen, the spokesman said that Mrs May set out the "urgent need" to bring an end to the conflict and bring relief to millions threatened by famine.
"The Prime Minister stressed that the humanitarian situation remained dire and reaffirmed UK commitment to making progress on improving the situation, including through a UN Security Council Resolution," the spokesman said.
"The Prime Minister reiterated UK support for Saudi Arabia's security, including the very real threats posed by Iranian interference in Yemen."
Meetings on Saturday with Australian PM Scott Morrison, Japan's Shinzo Abe, Chilean President Sebastian Pinera and Canada's PM Justin Trudeau will focus on opportunities for trade after Brexit.
In a later meeting with Turkish President Recep Tayyip Erdogan, Mrs May will also discuss the progress of Turkey's investigation into the Khashoggi killing in the Saudi consulate in Istanbul in October.