A Second World War veteran who was seriously injured in a violent robbery in his home has died.
Peter Gouldstone had been left badly hurt following the attack in north London last month.
No arrests have been made, but Scotland Yard said "a number of active enquiries are in hand".
A 26in Panasonic TV and other personal possessions belonging to Mr Gouldstone were stolen from the house in Enfield during the robbery on November 6.
Detective Inspector Paul Ridley said: "We are all shocked and saddened by the news of Peter's death. It is the worst news for his family and for all those who cared for and knew him."
He said: "I urge anyone who has information, no matter how small a detail, to search their conscience and contact police without delay.
"I particularly want to hear from people that may have been offered the Panasonic television that was stolen, or who saw either people or vehicles in the vicinity of Evesham Road, Enfield, N11 that may have appeared out of place."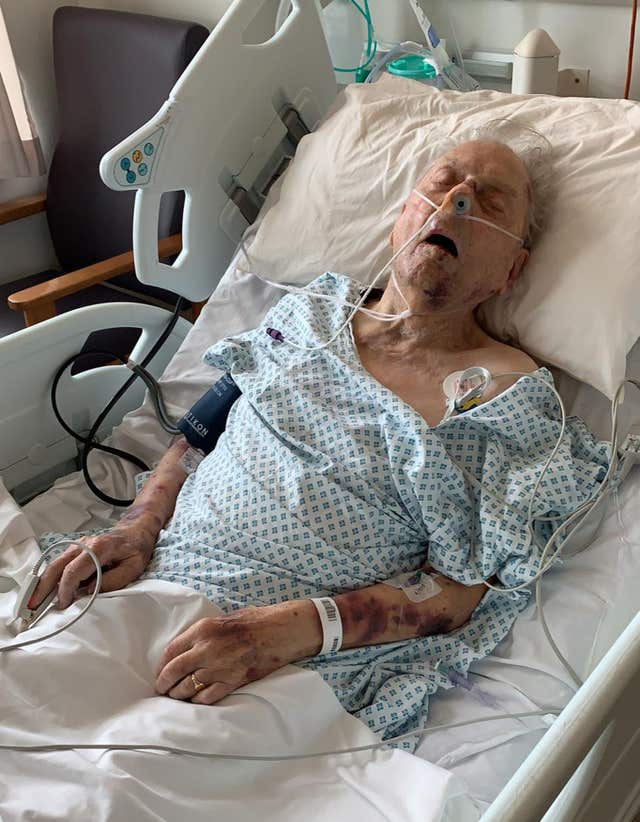 A £10,000 reward offered by Crimestoppers for information leading to the arrest and conviction of those responsible for the attack remains in place.
Mr Gouldstone had lived in his terraced house for more than 60 years.
His son, former civil servant Simon Gouldstone, 67, said following the attack and before his father's death that he had been left "shocked".
He said: "As a member of the family I'm shocked, as a member of the human race I'm lost for words at man's inhumanity to man, I'm afraid."
He told reporters his father had worked on phone lines in Italy during the Second World War before going on to a career at the Post Office and retiring around 1980.
Neighbours in the quiet residential street expressed their shock.
One man, who did not want to be named, said the crime was "unforgivable".
He said: "Why? Why would someone do that to a 98-year-old? It doesn't make sense. This is unforgivable."
The 65-year-old, who has lived in the area for nearly 40 years, said he had not seen Mr Gouldstone in recent times but would remember him as a "nice, friendly gentleman".
Patrick Stokes, who has lived on the street in Enfield for a year, said it was "terrible" news.
The 26-year-old carpenter said: "I think it's really safe round here, quiet and residential."
He said whoever is responsible must be caught soon, adding: "They need to be brought to justice."
Former Conservative Party treasurer Lord Ashcroft, the founder of Crimestoppers, last month personally put up a reward of £10,000 – matched by The Sun – for information leading to the arrest and conviction of those responsible.
On Saturday he tweeted that the veteran had died having never left hospital, and noted: "The reward is still open."