The Duchess of Cornwall was greeted by inflatable dinosaurs, hippies and a school choir singing Christmas carols at a charity event in the City of London.
For an entire day ICAP, a City broker, donates 100% of its revenue and brokers' commission to charity.
Now in its 26th year, the charity day has raised nearly £140 million for more than 2,300 charities worldwide.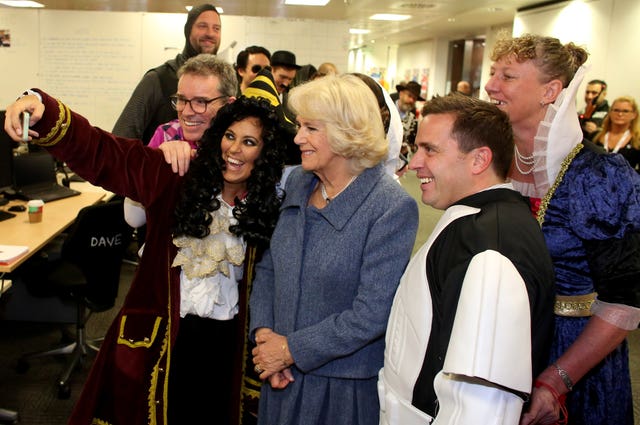 Wearing a blue Bruce Oldfield skirt and jacket, the duchess visited ICAP's trading floor on Wednesday, along with TSL founder Dame Esther Rantzen.
They were greeted by raucous scenes of cheering brokers, who were dressed in a variety of silly outfits within their teams.
One team of inflatable grey dinosaurs, the commercial and local trade desk, helped Camilla trade £200 million worth of "four-month CDs".
Chris Spencer, head of the desk, explained that "four-month CDs" are "somebody issuing some of their bank debt paper, basically. It's almost like an IOU, it's like writing a cheque in some way."
The revenue generated for charity from that trade equated to around £2,750, Mr Spencer said.
He laughed that he accidentally hit the duchess on the head with his dinosaur costume, saying: "I kept holding it up thinking 'Oh my God, I'm for this one'."
The Silver Line was founded by Dame Esther in 2013 and provides a freephone 24-hour helpline for older people suffering from loneliness, offering information, advice and friendship.
To celebrate the charity's fifth birthday, the duchess and Dame Esther cut a cake, made by previous Great British Bake Off finalist Andrew Smyth.
Camilla then made a phone call to 87-year-old Margaret Laverick, from Melrose, Scotland. Mrs Laverick is a regular client of TSL and has struck up a friendship with Dame Esther since using the service.
"Esther tells me you're a very special person," the duchess said to Mrs Laverick. "I wanted to ring you up and wish you a very happy Christmas."
Dame Esther said: "It's a new charity, we're only just five years old. We've already had well over two and a quarter million callers. It just proves how huge the demand is, how great the need is.
"It's absolutely wonderful to have the Duchess of Cornwall as our royal patron, it means so much to us and to the older people."
This year, due to a national day of mourning in the US for the funeral of former president George HW Bush, the New York stock market is closed. Therefore, the American team will take part in the charity day on Thursday.
Figures revealing how much has been raised are expected to be released on Friday.