Leaving the European Union without a deal would bring some "significant" economic benefits in the future, a former Brexit minister has claimed, as she lambasted the "exaggerated scaremongering" by forecasters.
Conservative Suella Braverman said a no-deal outcome to the negotiations had been "overblown" as a "disaster" by Remainers, and instead insisted there would be "some significant medium to long-term economic benefits" in such a scenario.
The Fareham MP, who resigned from the Government last month over the Prime Minister's Brexit deal, said that while she hoped Theresa May would renegotiate a "better" deal, she "wouldn't mind" no deal.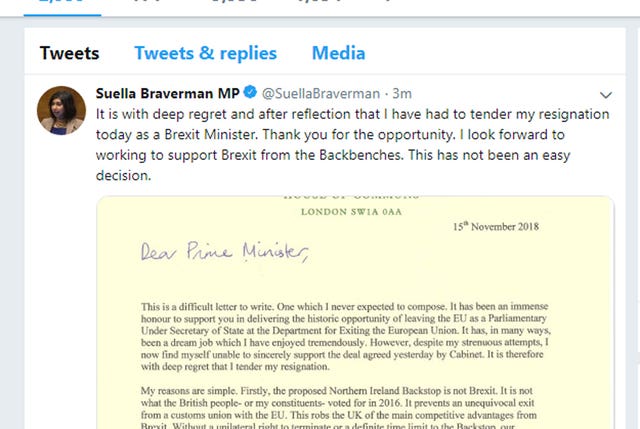 "In many ways there are some significant medium to long-term economic benefits from no deal, by opening our markets to global producers from outside of the EU we will increase competition, we will increase choice."
Mrs Braverman criticised the "exaggerated scaremongering" of the Bank of England and the Treasury, who last week issued grim assessments of the impact of a no-deal Brexit on the UK economy.
She said the forecasts were "totally overblown" and had been "disparaged by many serious economists".
"They completely exaggerate the benefits of our membership with the EU, and they minimise any of the opportunities from free trade agreements with other countries and they overplay the obstacles presented from coming out of the EU in a way that doesn't match reality," she explained.
Mrs Braverman added: "There are challenges to no deal but it would be definitely better than this deal. To coin the phrase 'no deal is better than a bad deal' – that's exactly the situation we're in now."