Sir Terry Morgan has resigned as chairman of HS2 Ltd and Crossrail Ltd, the Department for Transport (DfT) said.
The announcement was made just days after Sir Terry revealed he expected to be sacked from the HS2 role.
Crossrail – London's new east-west railway – was due to open this month but its launch has been pushed back until at least autumn next year due to delays in completing infrastructure and testing.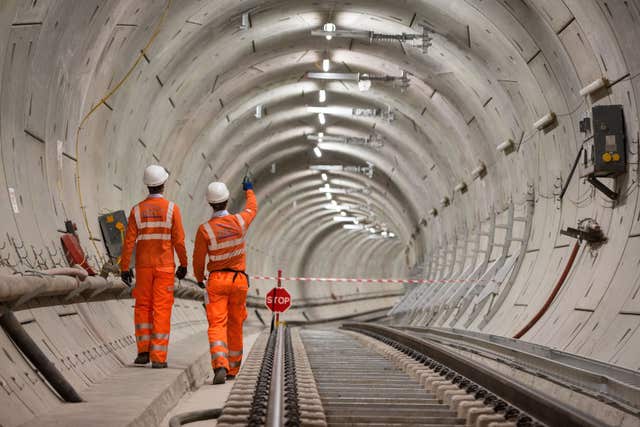 Sir Terry became chairman of HS2 Ltd in August but there has been growing speculation that the high-speed railway will exceed its £55.7 billion budget.
Speaking on Saturday, he said there was disappointment at Westminster about the Crossrail delays and he expected his sacking to be "confirmed more formally in the next few days".
Asked why he thought he was being forced out, Sir Terry told BBC Radio 4's PM: "I can only but assume, because I've not yet been told, that because HS2 is such a critically important programme and with the sense of disappointment around the performance of Crossrail, that it was considered to be too risky for a programme like HS2 to continue in my role as chairman."
Transport Secretary Chris Grayling said: "Sir Terry has been an integral part of Crossrail for almost a decade and I would like to thank him for his dedication and the expertise he brought to the role.
"I am also grateful to him for his work as chair of HS2 Ltd."
Allan Cook has been announced as Sir Terry's successor at HS2 Ltd.
He is a chartered engineer with more than 40 years' international experience in the infrastructure, automotive, aerospace and defence industries, according to the DfT.
Mr Grayling added: "HS2 is the country's biggest infrastructure project and, with his wealth of experience, Allan Cook CBE is the right person to oversee the project as it progresses towards full construction."
Sir Terry's successor at Crossrail Ltd has not been announced.
Mayor of London Sadiq Khan says he only found out about Crossrail's delay on August 29, two days before it was announced.
But Sir Terry insists the mayor was aware of the problems at least a month beforehand.
Following Sir Terry's resignation, Mr Khan thanked him for serving as chairman since 2009 but said: "For a while now I have had concerns about the effectiveness of Crossrail Ltd's governance.
"Not only was I angry when Crossrail Ltd informed us that the project would be delayed, but historically there has been a lack of adequate information shared by the senior Crossrail leadership with the project's joint sponsors – namely, the Department for Transport and Transport for London."
Mr Khan said, under new leadership, Crossrail must provide confidence that it has "robust mechanisms in place" to deliver a revised schedule and operate with a "renewed sense of urgency and transparency".