Two former Tesco directors have been cleared of fraud and false accounting in relation to the company's profits being overstated by £250 million.
The firm's shares plummeted by nearly 12%, wiping £2 billion off the share value, when Tesco announced in September 2014 that a statement the previous month had overstated profits by about a quarter of a billion pounds.
Chris Bush, ex-UK managing director, and John Scouler, the then UK food commercial director, were accused of being aware that income was being wrongly included in the company's financial records to meet targets and make Tesco look financially healthier than it was.
But on Thursday at Southwark Crown Court, the jury was told that they were acquitted at the Court of Appeal on Wednesday.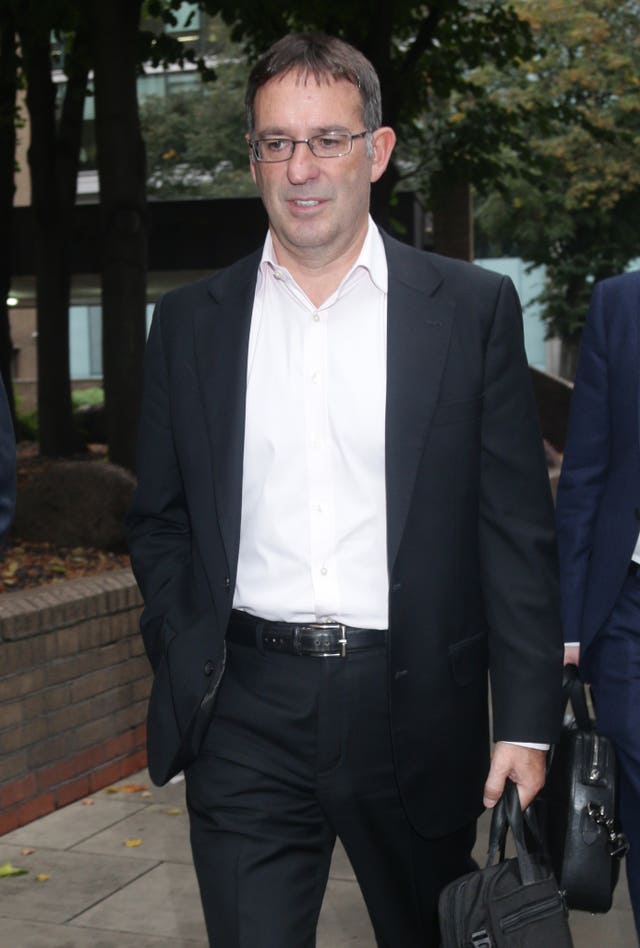 The SFO went to the Court of Appeal regarding the dismissal, but its appeal was dismissed on Wednesday and the men were cleared by Court of Appeal judges.
Mr Scouler, 50, of The Park, St Albans, and Mr Bush, 52, of Four Acres, Green End Road, Radnage, High Wycombe, were each cleared of one count of fraud and another of false accounting.
None of this could be reported until the jury was informed.
During the trial, the jury was told the case was a retrial, and that a third man, former UK finance director Carl Rogberg, is charged with identical offences but was not currently well enough to stand trial.
A decision will be made in due course about what action should be taken in relation to Rogberg following the acquittals of Mr Scouler and Mr Bush.
The trial of Mr Scouler and Mr Bush, which began on October 8, had been expected to last three months.
Informing the jurors of the development, Judge Sir John Royce acknowledged that they had given up more than two months of their lives attending the trial.
He said: "I concluded that, in certain crucial areas, one in particular, that the prosecution's case was so weak that it should not be left for a jury's consideration."
Sir John added that the "real weakness" was the question of proving knowledge.
On entering the courtroom, the judge remarked to prosecutor Sasha Wass QC that it was "the end of a long saga".
The judge told the jury that there was a deferred prosecution agreement (DPA) between Tesco and the SFO, and as part of that agreement Tesco has agreed to pay a fine of £129 million.
Richard Sallybanks, partner at BCL Solicitors LLP, represented Mr Scouler and said: "We are delighted that Mr Scouler leaves court today knowing that the judge, having heard the entirety of the prosecution evidence, reached the firm conclusion that he had no case to answer.
"That decision was obviously correct, yet the SFO chose to pursue an appeal which was rejected yesterday when the Court of Appeal refused even to grant leave.
"We have long argued that the SFO's prosecution of Mr Scouler was fundamentally flawed, that he should not have been charged, and that the SFO should not have proceeded with this trial.
"Mr Scouler has maintained since the outset of this investigation that he was not guilty of fraud and false accounting, and those close to him always knew that to be the case.
"We are simply pleased that, after four years, this has now been confirmed by the Court of Appeal upholding the judge's decision that he should be acquitted of all charges."
He said it was a "very significant defeat" for the SFO.
In a statement, Mr Bush said: "On 25 November 2018, after considering the entire SFO case, the trial judge Sir John Royce, reached the 'firm conclusion' that there was no case against me, or against John Scouler.
"I am sorry to say that the SFO tried to appeal that decision.
"I am pleased that yesterday the Court of Appeal concluded that the trial judge was right to decide that there was no case to answer and refused the SFO permission to appeal.
"Therefore yesterday, after a four-year ordeal, I was acquitted of all charges against me.
"While I am delighted that my innocence has finally been established, it is troubling that Mr Scouler and I were ever charged.
"Put simply, these charges should never have been brought, and serious questions should be asked about the way in which the SFO has conducted this investigation.
"In my view, the SFO wholly failed to investigate this case thoroughly, independently or fairly from the outset.
"I want to thank certain people for their unwavering help and support: my amazing family and friends, my brilliant legal team at Hickman and Rose, and also the many people still working in Tesco, from the very top of the organisation down, for their countless messages of support.
"I am now looking forward to getting home and spending Christmas with my family."
The acquittal of the two men means that neither Tesco nor any of its executives have been successfully prosecuted over one of the biggest corporate scandals in recent history.
The deferred prosecution agreement (DPA) Tesco reached with the SFO in 2017 saw it pay £85 million in compensation payouts to investors and £129 million in fines and costs.
In total, Tesco took a hit of £235 million as a result of the DPA but avoided a trial.
Sarah Wallace, London head of regulatory and criminal investigations at law firm Irwin Mitchell, said there will be questions over whether the SFO, as both an investigator and a prosecutor, "have sufficient financial and human resources to investigate highly complex cases to the level required".
She added: "By agreeing a DPA, a company can draw a line under historical events more quickly, and manage their litigation risk, reputation risk and share price.
"This stance can be an effective commercial outcome when there is a huge financial, reputational and human resourcing cost in defending a criminal prosecution where acquittal is not guaranteed.
"However, if more cases against high-profile corporates and CEOs collapse, the SFO will have to rethink their strategy as the big boys and their lawyers may be emboldened and deterred from conceding criminal liability if the prospect of actual criminal conviction is uncertain."