Belfast's Lord Mayor has insisted her advocacy of rights issues at the heart of the Stormont impasse do not undermine her claim to represent all the city's citizens.
Deirdre Hargey said her support for an Irish language act and same-sex marriage legislation were "universal rights" that broader civic society in Northern Ireland backed.
Belfast's first citizen also defended using her office to promote a pro-choice position.
Endorsement of all three causes were outlined in a document launched by Sinn Fein's Ms Hargey on Monday called the Lord Mayor's Charter.
The document, published to mark International Human Rights Day, calls for action on a number of social and economic rights issues, some of which are the source of political controversy in Northern Ireland.
Proposed legislation to protect Irish language speakers and end the ban on same-sex marriage are two of the main disputes at the centre of the political rift between Sinn Fein and the DUP that has seen the region without a properly functioning executive for almost two years.
The region's strict abortion regime also polarises opinion, with vocal advocates on the both sides of the emotive debate.
The charter also calls for the introduction of a wider Bill of Rights – another unresolved peace process wrangle.
The document claims to "translate into action the spirit" of the wider council's community plan for the city – the Belfast Agenda.
No unionist councillors attended the launch event in City Hall.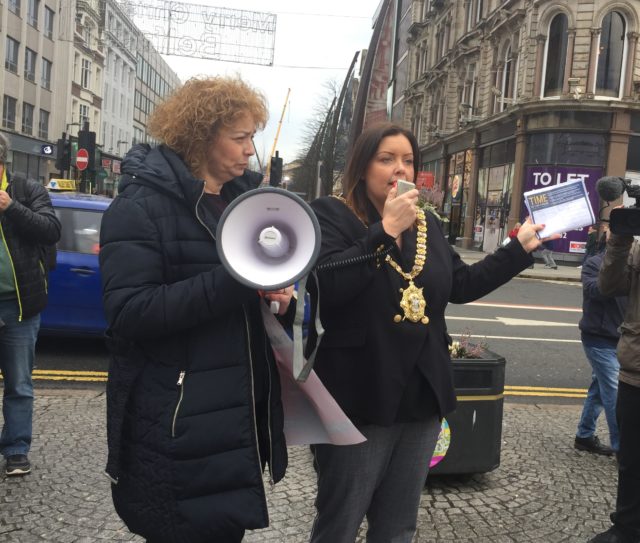 "Definitely not, the contrary," she said. "These rights are universal rights.
"Other governments – whether it is England, Scotland, Wales or in the south of Ireland – enshrine these rights to all of their citizens within society.
"Belfast and the north just need to catch up in that conversation and that debate to ensure we are instilling international human rights, because rights don't impinge on anybody else's right – it actually lifts society as a whole.
"And I do feel that broadly civic society are engaged on these issues, I think they are supportive of these issues and the change that's happening and I feel I am giving visibility to that change that is taking place in society.
"Belfast is a changing city. It is a city of forward-looking and optimistic people with great ambition for a better future for all its citizens.
"We are a city with a shared and complex history, but with ambitions for an inclusive, rights-based future.
"The Belfast of today is a multicultural and multi-ethnic city with a rainbow of colours expressing that diversity in language, food, song and dance – and that is something to be embraced and celebrated."
Professor Colin Harvey from Queen's University Belfast also spoke at the charter launch.
"This is an excellent initiative and comes during challenging and difficult times for human rights," he said.
"This document outlines how Belfast can be a leading human rights city – something that is a developing trend, and an example of the contribution cities around the world can make."